Sunday, 18th January 2009
Exclusive LA Muscle Club event in London '08
Get your tickets on-line right now for the biggest muscle & fitness party of 2008: The LA Muscle Halloween party on 31st October '08 in London
Please note: This event is re-scheduled for 2009. All ticket holders will be given a full refund plus a free LA Muscle product.
Do you want to be invited to one of those high profile VIP parties? You know, the ones you read about with the celebs, good looking guys and super-sexy girls, camera-crews and paparazzi? Do you want to be let in with no queuing, no uncertainties as to "dress code" and no hassle? Would you like to be treated like a true VIP in a true VIP party?
LA Muscle are throwing a big VIP party in London for Halloween on 31st of October 2008 and for the first time ever, we are opening up an LA Muscle event to you! Tickets are limited and the sooner you book, the more chance of getting a ticket. Don't miss out on this event. You will see it on TV, read about it and see the photos and you will be GUTTED that you weren't there, especially as you can GUARANTEE yourself entry by getting your ticket right now!

A really crazy party night... don't miss it!
This is an exclusive party thrown by LA Muscle. We usually hold smaller events and invite very select people. This time, we are bringing together a thousand like-minded fitness and body building individuals and you can be one of them. Girls and boys are all invited, no matter what age, size, fitness level or social standing.
There will be plenty of drinks, well known celebs and a proper party atmosphere in a luxurious venue. You can arrive any time from 9 p.m on the Friday and dance away to some seriously cool tunes until 2 a.m Saturday morning.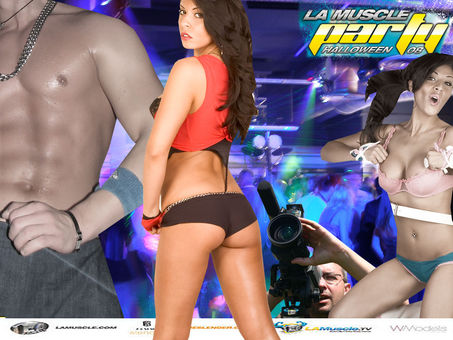 Make sure you are there...
Why shouldn't you?! It is Halloween so you are likely to go "somewhere", right? The venue is a massive luxurious club. Many top names in fitness and body building will be there. Here's a few more reasons:
Many of the top fitness and TV names will be there. Already confirmed are some of the Gladiators such as the sexy Ice and Mr Nasty Oblivion as well as Rob "Hollywood" Riches
WModels will be there looking for new models
LA Muscle.TV will be there filming the entire event.
You will 100% BE ON TV - Make sure you look your best!
A select number of VIP tables are available with a FREE bottle of Champagne
The club is a luxurious and massive venue - there will be lots of drinks at reasonable prices and plenty of the latest and coolest tunes to dance to
Don't miss out! Order your tickets right now on lamuscle.com/party. You can get as many single tickets as you want or go for a VIP table.
Click HERE to reserve your place for the exclusive LA Muscle Halloween party 2008