Norateen Hollywood Body was developed with unlimited input from Rob "Hollywood"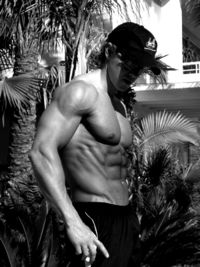 Riches. Rob is the World Musclemania Champion, BNBF Champion, FAME Model Ambassador and the 2008 Best Body at America's Fittest Model. He is also the host of the Rob Riches Show which is a weekly show on LA Muscle TV starting in Autumn 2008.
In developing Norateen Hollywood Body, LA Muscle's R&D Team asked Rob some questions.
Here for the first time, you can read these questions and the answers around which Norateen Hollywood Body was designed.
Q. What would be the first thing you would want a supplement to do for you and why?
A. Increase strength. I know that usually people want "muscle" or "fat loss" from a supplement but if you are not strong enough in the gym you won't build any muscle and without muscles on your body, you won't be so efficient at burning fat either.
Solution: Norateen Hollywood Body contains powerful strength-boosting ingredients

Q. What would have helped you in your initial body building days? What can help cement a good foundation in building a strong, head-turning physique?
A. Motivation. If you are not motivated to go to the gym as your plan, then you will stumble. It would be fantastic to have a supplement to give you that motivation to not stop. You have to keep going to the gym and keep pushing yourself to do more.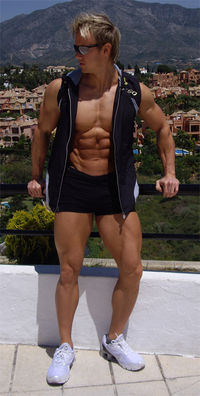 Solution: Norateen Hollywood Body contains male hormone and mood elevators that keep you motivated and make you feel good and masculine.

Q. What would be your ideal magic pill?
A. A pill that builds muscle and gets rid of fat. A pill that actually works and you see and feel it working in days.
Solution: Using the team that brought you the world's best-selling Norateen Heavyweight II, LA Muscle developed Norateen Hollywood Body to give the same amazing gains in muscle size whilst keeping body fat levels down.

Q. Anything else?
A. Yeah, no side effects or weird stuff. I am a lifetime natural athlete.
Solution: Norateen Hollywood Body is a 100% natural, side effect-free supplement that can be used by beginners and advanced trainers to see great results.

Norateen Hollywood Body may not make you look like Rob Riches overnight, but it has been designed with input from Rob to give you:
Immense strength
Male hormone and mood elevation
More muscle
Less fat
You should choose Norateen Hollywood Body over other products because...
It is the best of both worlds: designed in conjunction with scientists and real world athletes
It is manufactured in FDA approved labs in the USA
It is a safe, natural IOC approved supplement for people who are serious about getting a decent body, fast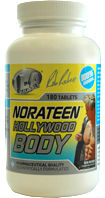 If you are over 18 and you want to try something truly amazing, developed by a team made up of some of the best scientists and athletes in the world, then Norateen Hollywood Body will not disappoint. You will recommend it to all your friends. You will see your dream of getting that amazing body realised within weeks.
Order Norateen Hollywood Body today.