Profile of Elvis Hall, NABBA & BNBF natural bodybuilding champion.
NAME:
Elvis Hall AKA ' KING OF POSEURS'
AGE: 32
HEIGHT: 5'9"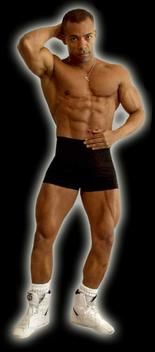 OFF SEASON STATISTICS:
100kg 16 st
CONTEST WEIGHT:
80 kg
PLACE OF RESIDENCE:
London
TRAINING PARTNER:
Priyesh & Alison
TRAINING OFF SEASON:
2 Body parts SIX days per week
TRAINING CONTEST SEASON:
I concentrate on one muscle part per day
TRAINING TIPS:
Before training your mind must be focussed on your goals - only you can motivate yourself. If you don't succeed you only have yourself to blame.
ROLE MODEL & INSPIRATION:
MUHAMMED ALI - "HE'S AS PRETTY AS ME"
& my Uncle Raymond who I used to watch training in the gym at the age of 8, he gave me my first set of dumbells….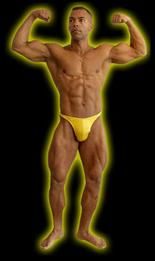 FAVOURITE BODYBUILDERS:
VICTOR MARTINEZ, DUNCAN TURNER AND NIGEL AUSTIN. VICTOR is my old school friend, we grew up in the same neighbourhood in New York City. He is now an IFBB pro.
Nigel and Duncan my friends, work colleagues in the Clubs and my mentors who play a huge part in my contest preparation.
DIET TIPS:
Off season I eat everything and anything I want … and love it!! During pre contest I'm very strict and do NOT cheat at all. LAMUSCLE WHEY, Vanilla flavour and always all natural food.
DISLIKES:
Over weight people with excuses and pathetic people who don't understand anything about bodybuilding and hang out in pubs wasting time.
LIKES:
Training in the gym, growing exotic plants [Editor's note: NOT the kind you guys out there are thinking about!], painting and cooking.
WHAT MOTIVATES ME:
Looking at average people in the streets who are clueless about how to look.
HOW I LIVE UP TO MY NAME:
In 2000 I was voted "KING OF POSEURS" on national ITV show Trisha and from there it was history………
COMPETITIONS:
NABBA 2001 1st Timer First
BNBF Scottish 2003 Under 80 kg First
BNBF 2004 Under 80 kg ???
The reason I love bodybuilding is it sets me apart from average-looking people and all together my body + my character + my name = ELVIS "KING OF POSEURS".