LA Muscle interview with Susan Borg
NABBA Universe Figure Competitor. How does she combine being a full time violinist and being a Universe contender?
What is your full name and profession?
Susan Borg - musician (violinist)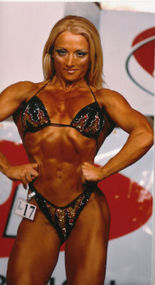 Where do you live? What's it like there?
Malta. What's it like living there? Very relaxing island, beautiful weather.

Have you always been "a sporty type"?
Yes, was a volleyball player at school and loved gymnastics.

At which point in your life did you decide to take up body building?
Started weight-lifting and aerobic classes when I had 15 years.

How would you classify yourself: bodybuilder or fitness…?
A small bodybuilder.

What or who inspired you to get into male dominated sport?
No-one, I'm a bit boyish myself.

Why have you chosen bodybuilding, there is so many sports?
I love to lift the weights and see the well-toned body definition as a result.

Do you have any female mentors?
Yes, Giovanna La Rosa. But actually my ideal shape for Miss Figure contests is of ex-Miss Universe Pina Theodoris. Small framed with enough muscle to stay feminine. As years went by the judges started to want more muscle and more defined/hard physiques. Giovanna La Rosa achieved her 4 times in a row Miss Universe title so that confirms. I admire Giovanna because she is so sensual, lovely, confident and her poses are perfect. I have video tapes and dvd's so I keep studying their attitude.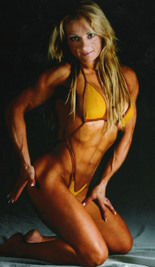 What is your training routine like?
Monday - chest, biceps, front shoulders. Tuesday - legs and abs. Wed OFF . Thursday - back, triceps, rear shoulders. Friday - legs toning aerobics and abs. An hour a day of fast walking outside in the morning but not always.

What supplements are you taking at the moment ?
I use Chocolate Whey Protein, sometimes Glucosamine products.

What do you think is the hardest part in your training regime and why?
I hate doing the cardio for more than an hour. I use it to maintain my fat percentage low.

What do you like the most about your sport?
I literally love to lift the weights, feel and see myself pumped. I've always liked a hard-toned body.

What is you biggest achievement?
Apart from arriving at the 4th place at the Universe last October, the most that paid me back from this experience is that I learnt so much about our body from the diets and training. Now I give diets to help people out so I can see the progress in them too.

How do you feel on stage?
I feel great, I simply love it! Guess I compete for that actually, not just to compete.

What is the atmosphere like behind the scene?
Very nice, you get to know lots of ideas and very easy to make friends, in fact I still am very close to friends of 4 years ago.

Do you have to change a lot for a competition?
The worst part is to try to control your nerves cause of the diet. Physically obviously it's not a nice thing in fact your face looks awful. It's like going down 5kg in the last month.

Do you think women are more competitive than men?
No, I see them even. Maybe men a bit more.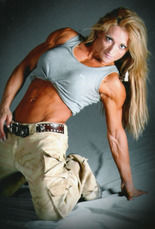 Do you usually give yourself some "time off" after major competitions?
Yes, usually from October to the end of the year I don't diet and lessen the gym days to twice weekly doing super-sets.

Do you have a daytime job?
Yes I am a full-time professional violinist with our National Orchestra.

What do your friends from work say to your sport? Do they think it's an unusual combination- gentle violinist at work and a female bodybuilder "after hours"?
Well, my so-called friends for the first three years didn't accept a body-builder among violinists and worse me, as a female. I even had problems with the company's committee. They tried to stop me from even training my sport that I actually have been doing for almost 17 years now! Couldn't believe that if one is careful and doesn't exaggerate nothing bad will happen to muscles. Now this year after placing 4th at the Universe they realized and were happy for me!!

How do you cope with everyday life and training and competing?
I do my best to wake up at 5am for cardio, cook, go to work, to gym and back to work.

What sort of feedback do you get from your friends and people in general?
My family back me up completely. My friends admire me a lot and encourage me too.

Do men's points of view differ much from women's?
In Malta men are not so open-minded so it was quite difficult to introduce my category. In fact my boyfriend can't stand the Tanga in NABBA.

What are the most common questions you get from women?
If I lift very heavy? How many times do I go to the gym? What do I eat (lots!!)?

How has your body changed throughout the years of training?
Obviously got bigger muscles and stronger but less feminine.

Apart from changes in your physique have you also noticed changes in character or personality?
No. Only when I'm on the last 2 months diet I'm nervous.

Are you afraid of losing feminine features?
Yes a lot.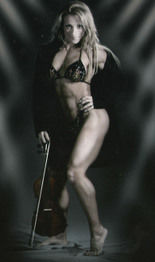 Do you think you can stop doing bodybuilding just because of that?
Oh no way!

How do you cope during the time of the month?
Like before competing, very sensitive and feminine ( at least for that week )!

Is the sport you do affecting your love life?
No because he competes too but as I said before he doesn't agree with the bikini.

How do you choose your stage outfit and make-up? Do you go for certain colours and designs?
I buy my bikinis from a shop or order them from a tailor.The bikini's style and colour go with your body's structure. It's a very personal choice. The best is to feel comfortable, use cuts that bring out your best parts and are sexy! I do my own make-up.
In general, how would you encourage people, women especially, to care more about their fitness and wellbeing?
Well, I like comparing to celebrities people know, but I try to teach them that our way of eating schedule must be taken as a MUST (like brushing your teeth every day)!!

What would you say are the most important do's and don'ts with training and nutrition?
TRAINING : DO's- 20 minutes walking a day (the best 1st thing in the morning.) Don' ts- exaggerate. NUTRITION: DO's- drink 2.5 litres of water. DONT's- fry.

How do you motivate yourself on a daily basis?
I look in the mirror and jump on the scales!!

What will be your next competition?
NABBA World Championships 2007. Have to win!

When do you think you'll stop competing?
If my health and wealth stays with me I'll never quit.