Tuesday, 9th June 2009
My experience with the Norateen Hollywood Body
by Ben Lauder Dykes- LA Muscle Sponsor, Personal Trainer and Fitness Model
Ben Lauder Dykes is a fully qualified advanced level 3 Personal Trainer, Fitness Model and LA Muscle TV presenter.

He has worked as a personal trainer on professional stage productions such as Mamma Mia and trains a number of professional actors, dancers and other performers. Working closely with nutritionist Jennifer Lackie, Ben has trained professional racing drivers such as Formula One drivers Kimi Raikonen and Ollie Hancock about fitness & nutrition.

As an LA Muscle TV presenter Ben presents his own show The Sessions, where he demonstrates the best ways to work out different muscle groups. Most recently he has been working with 3RUN, a team of parkour and free running experts helping them to achieve various fitness goals. This is part of a LA Muscle TV documentary called the 3RUN Challenge. Ben has also appeared in The Daily Star, Muscle & Fitness and various calendars as a fitness model.

Here is how his experience of using one of LA Muscle's top selling supplements Norateen Hollywood Body went…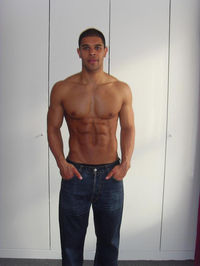 Measurements:
Weight – 79kg
Chest – 40 inches
Arms – 13.5 inches
Waist – 30 inches
Quads – 23 inches

Over the next 4 weeks I will be using Norateen Hollywood Body, as directed I will take 2 tablets 3 times a day.
On training days I am taking 2 tablets 30 minutes before workout and 2 tablets immediately after. The final 2 tablets I will take before I go to bed. The reason for this is that natural male hormone levels in the body are at their highest in the morning and then decrease throughout the day. The body is also at its best cell growth state whilst asleep, as growth hormone levels are higher during sleep.
Therefore by taking the final 2 tablets just before bed I can have both high growth hormone and male hormone levels during my most activeperiod.
On rest days I have 2 tablets in the morning, 2 tablets midday and 2 tablets before bed.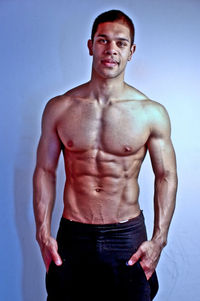 4 weeks later….

Measurements:
Weight – 81kg +2kg
Chest – 41 inches +1 inch
Arms – 15 inches +1.5 inches
Waist – 30 inches
Quads – 25 inches +2 inches
As you can see from the images and measurements, I have had some great improvements over the last 4 weeks. I definitely felt the Norateen Hollywood Body helped with strength levels, I was lifting heavy and really overloading my muscles.
My squat had increased from 130kg to 150kg for 8 reps and my leg press increased from 320kg to 350kg for 6 reps. My wide grip pull ups had increased from bodyweight +10kg to bodyweight +17.5kg for 6 reps, DB shoulder press from 32kg DB to 38kg DB for 8 reps and finally the thing I am most pleased about is my Chest Press. This had always been an exercise I had struggled to improve on but I have increased from 40kg DB to 48kg DB for 6 reps.
As some of you may know, it is notoriously hard and/or slow to put on weight and muscle whilst maintaining low body fat levels but over the last 4 weeks I have managed to do both. This product has been the only thing I have changed in my routine over the last 4 weeks so I can clearly see how effective it has been and would recommend it to anyone. You must remember that you must also push yourself in every training session and use the product to help accelerate your gains.