Rob Riches becomes PRO Fitness & Muscle model in 1 day!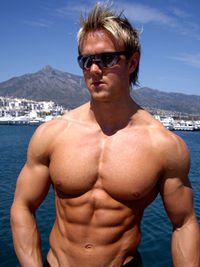 Rob Riches became a Pro Fitness Model, a Pro Muscle Model, and very nearly a Pro Bodybuilder, all in the same day at the FAME East Championships in Montreal on
April 19th. Rob entered all three categories at the advanced level, and spent much of the day changing for each category, tanning up between each category, and barely left the stage as he fought it out between some
of the top fitness models in Canada. Rob's previous success in natural bodybuilding stood him in good ground against some of the very best natural bodybuilders in the world, and with world titles already under his belt from 2006,and his recent 'Best Body' award at America's Fittest Model contest only
weeks ago, he is now proving himself as a fitness model amongst the worlds top rankings!
"I knew it was going to be tough entering 3 shows in
one day, but It was time for another big challenge and
I wanted to show the transition between bodybuilding
and fitness modeling can be achieved by just a few
different poses and clothing choices" Says Rob. "It's
about finding a style that works best for your
physique, and I train mine so that i'm on that fine
line of being able to step into each category and do
pretty well in each of them".
Rob's now training for the World Finals in June, held
in Toronto, and as always, is aiming high with a top
place finish in his sights. Rob also had filmed his
entire pre-contest week, showing everything from how
he trained to prepare for the show, the foods he ate,
the supplements he took, and exclusive backstage
footage from a show with over 100 top natural
athletes. You can expect to see this DVD within a
month, and learn everything that a Pro does to be at
the top of his game.