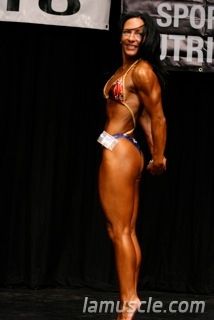 I started competing in figure shows 7 years ago and although my condition was not as good as it is now, I have always had a balanced physique. I am quite petit, with a good muscular upper body and definition matched by muscular toned legs.
A model may aspire to a 36-26-36 figure with slender arms and legs. As a fitness/figure competitor, the top half must balance out the bottom. Having a balanced physique quite simply looks better. This applies whether you train or not. What I mean by this is, you can have great arms, good definition and a tapered waist, but it is no good if you have a couple of twigs hanging out of your shorts!
We all have areas of weakness we must work harder on but there is no excuse for not training legs at all!
I used to look in the magazines at the models with those long slim legs and think my legs are massive. At 21 inches each with a 24 inch waist they seemed big to me and getting clothes is a challenge but that's another story. The up shot is, it was this balance that won me UK titles and now as you see from my pictures I'm not just all about the abs, happy to get those legs out!
Having weight trained since the age of 16, I have watched the way many people train. Some guys don't train legs at all and some girls will try and tone them with cardio alone. A couple of guys I have dated in the past have had great physiques but their legs have been the same size as mine. Seriously men I am 5'2" and 7 half stone!!
So we have 2 problems here…..
Guys, building leg muscles takes hard work and large amounts of good quality calories. The overall benefits to your physique are fantastic, whether you intend to stand on stage or not. By adding muscle to your upper body and not to your legs when you lift allows the muscles you are building in your upper body to take over where the legs should be more involved. This could lead to possible injury. Your lower back could also be at risk by not working the glutes and hip flexors to protect this area.
Ladies, apart from the issues mentioned above, using the cross-trainer and stepper alone will not give you shapely toned legs, weights will!
Don't be afraid to work hard, this will tone and define your legs, not make them massive.
Currently my leg training is as follows:
I use a combination of the following exercise over two separate leg work outs and then come back to the original one again.
This all depends on what is free in the gym and keeps it varied. I will always make sure I get a well rounded balanced leg work out and hit all the major muscle groups.
Squats
Single leg lunges
Walking lunges with dumb bells
Straight leg dead lifts
Single leg straight leg dead lifts with kettle bell
Seated hamstring curl
Leg extensions
I usually do 3-4 sets of an exercise at 12 reps
Check out other articles by Emmalouise Bowen right here