The Lounge > How To Lose Fat >
Sunday, 28th July 2013
The truth behind Six Pack Creams and their claims
Do six pack gels and creams really work?
Have you seen some of the creams and gels that are available today, claiming to give you a six-pack? Does it sound like science fiction or are you tempted to give them a try? Let's find out if they really work…

LA Muscle has a Research and Development team solely dedicated to working on new supplements and formulas to give you better results and help you achieve your goals faster.

A few years back, LA Muscle's UK & USA R&D Teams tested a substance that came with some incredible claims. Not only did it claim to reduce "local" fat, it also had a very credible scientific study to back this up.

As some of you may know, it is almost impossible to shift "local" fat. The way the body works, fat gets burnt all over and you can't really dictate where the most fat should be taken from. This "local fat burning" was quite literally unheard of.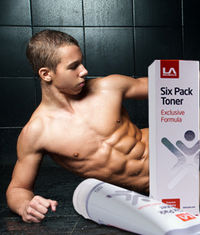 LA Muscle's R&D Teams set about investigating this new substance, looking into the scientific study behind it and the team commissioned 2 studies of their own. The results were quite literally astounding. Proto-type products were showing almost identical results to the study – that being significant catalyst of local fatty deposits, up to 17 x faster!

Following 1.5 years of extensive lab and real life testing, LA Muscle launched Six Pack Toner Gel. At the time of launch, people were very wary of a gel that can be applied externally to help you get a six-pack. Sales were slow and the product was considered "wild" and "too cutting-edge"!

Fast-forward to this year where there are now several companies that sell six pack creams. You can even buy one particular brand in some supermarkets in a number of European countries.

Do they work? The answer is a big no! They do not work because they don't have the main ingredient that LA Muscle launched which started this six-pack cream revolution.

Why do these companies not have this ingredient? Because they don't have the rights to the original version, it is too expensive and most companies are about cost-saving and most importantly they do not have a fully functional full time R&D department.

Six pack creams in general do not work. This is why on many of the packaging you don't see their ingredients or any references to scientific studies behind them.

The lone ranger is LA Muscle's scientifically formulated Six Pack Toner – the Original Six Pack Toning Gel. This amazing product promises and delivers:


17 x more fat loss in comparison to those not using it
Reduction of abdominal volume by 6.2%
Reduction of abdominal circumference by 2 cms
Visible and significant appearance of six pack abs
Packed with amino acids for quick ab recovery post workouts
Unlike other me-too products, LA Muscle's Six Pack Toner Gel comes with LA Muscle's cast iron 100% money back guarantee if you are not happy. Never mind whether it works or not. If you use it and for any reason you are not happy, you will get your money back.
It has been a year and sales for LA Muscle's Six Pack Toner have gone through the roof, mostly due to recommendations from people who have used it.
If you want to try something different to get a six pack, you don't want to waste your money and you want guaranteed results, give LA Muscle's Six Pack Toner a try. They only thing you need to do is make sure you do apply it every day as instructed and follow the full instructions that come with your product.
You can also try CelluBurn which is another great six pack gel.