Last week I was in Portugal and realised now that I am reaching 40, a little bit of a belly was creeping up on me. Yes, I exercise regularly and eat well but I guess age catches up with everyone and when the metabolism slows down, you have to put a little more effort in and get some extra help.

Panicking and realising that I hadn't taken my Fat Stripper tablets with me, I decided to go and get a fat burner from one of the local shops. The following is what I found out and why I would never again leave home without my required LA Muscle supplements.
Buying is so easy in the UK
Firstly I realised just how easy it is to get things in the UK. You can walk into one of hundreds of health shops to buy supplements instantly or alternatively there are hundreds of online supplements shops that deliver your products the next day. This is not the case in the rest of the world, apart from the USA.
Buying a simple thing turned out to be a nightmare!
I just wanted a fat burner similar to LA Muscle's Fat Stripper. The pre-requisites were:
- Something that really works and I can see results in a few days
- Something that was proven to work by a reputable company
- Something that didn't give me any side effects
- Something that had ingredients I had heard of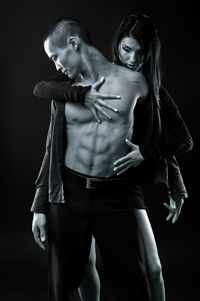 The health food and sports stores that I found had such a huge mark up on their supplements that I just couldn't believe it. Portugal is supposed to be a poor country, yet their supplements were twice the price of that in the UK!
What was even more annoying was that I just couldn't find a fat burner with a decent formulation. Honestly. The following is what I found and as much as I desperately wanted to kick-start my fat loss, I just couldn't part with money for these products:
CLA
I found a variety of CLA supplements. Some were not genuine CLA but sunflower oil. The only one which I found by a reputable UK company was a CLA, plus thermogenic agents! What on earth is that all about? Talk about stupid formulations. CLA is a very natural, safe and non-invasive weight loss supplement. The whole point of it is that it is not a stimulant and gets rid of fat without any side effects. What idiot would put stimulants in a genuine CLA product? What's the point?
L-Carnitine
This is a lovely fat burner that just works. I found two L-Carnitine formulas and was so happy... then I realised one was priced at 110 Euros!!! The other had a tiny amount of L-Carnitine and the rest was some green looking artificial colour and flavouring. No thank you. I want to burn fat, not glow!
Other fat burners
There were lots and lots of other fat burners. I read the labels on all of them: Mega this, extreme that, rapid, super... ALL of them had Guarana, Caffeine and other stimulants.
I cannot sleep if I have too much Caffeine. I do not want massive doses of caffeine and Guarana (which gives more caffeine than coffee!). Extra caffeine gives me palpitations, makes me irritable, moody and totally ruins my sleep.
Cut a long story short, I was absolutely gutted. I didn't buy anything and I realised why I have been and am a loyal user of LA Muscle supplements.
As a comparison, their original Fat Stripper is natural, stimulant-free formula and just works! I have been using Fat Stripper for 6 years every time I feel I need to look good and get rid of the excess fat and it has never given me any side effects or bad effects or let me down. I just love it. LA Muscle supplements are all about delivering what's promised but more importantly safe formulas.
A supplement should never give you anything you didn't ask for. It should be in tune with your body. If it's natural and gentle, it shouldn't have stimulants thrown in for good measure. That's why I didn't buy any fat burners in Portugal.
I will not be travelling without my LA Muscle supplements ever again, especially the ever so reliable original Fat Stripper.

Bill Nye,
Sports Sales Director, PT