The Lounge > Recipes >
Prawn stir-fry
Healthy Prawn stir-fry with a twist
Ingredients: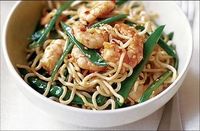 • 15g sesame seeds
• 1200g French beans
• 200g mangetout
• 125g dried medium egg noodles
• 400g cooked and peeled prawns
• 1 medium-hot red chilli, deseeded and chopped
Ingredients: Sauce
• 1 tbsp dark soy sauce
• 1 tbsp rice wine vinegar
• 1 tsp toasted sesame oil
• 1 tsp Sunflower / Olive oil

Directions:
1. Heat a dry frying pan over a medium-high heat.
2. Add the sesame seeds and stir for 3-4 minutes, until lightly toasted.
3. Transfer to a bowl and leave to cool. Whisk together the ingredients for the dressing.
4. Bring a large pan of salted water to the boil.
5. Meanwhile, top and tail the French beans and cut them in half lengthways. Cut the mangetout in half lengthways, too.
6. Drop the beans into the pan and cook for 3 minutes, until just tender. Remove with a slotted spoon and refresh under cold water.
7. Add the mangetout and cook for 2 minutes. Remove with a slotted spoon, then drain and refresh as before.
8. Add the noodles to the pan and cook for 4 minutes or until just al dente. Drain and set aside to cool.
9. Mix the beans, mangetout, noodles, prawns, most of the sesame seeds and the chilli together in a large bowl. Add the dressing and toss together well. Sprinkle with the rest of the sesame seeds just before serving.