The Lounge > Recipes >
Portabella Pizza
Delicious Portabella Pizza
Ingredients: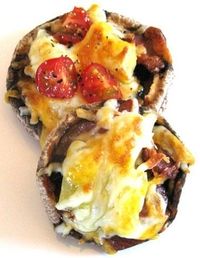 • 8 Portabella mushrooms
• 500ml pizza sauce
• Shredded mozzarella cheese
• 75g of each: red, green, orange pepper, diced
• 75g sweet onion, diced
• 226g sautéed fresh spinach
• 1 tsp red pepper flakes (optional)
Directions:
Preheat oven by setting the broiler on low.
Take a baking sheet and cover with a silicone non-stick baking mat or parchment paper for easy clean up.
Remove stems of Portabellas and gently rub Portabellas with a wet cloth to clean.
Place Portabellas 'belly' side up on the baking sheet. Spoon about 2 tablespoons of pizza sauce into each Portabella.
Grab a cutting board and knife and chop the onion and pepper and then sprinkle onto Portabellas.
Next, add the sautéed spinach. (Add as much as you like!) Top with mozzarella cheese.
Finally, shake on some red pepper flakes.
Broil in the oven on the lowest temperature setting on the middle rack for about 10-12 minutes, watching closely as broiler temperatures vary. Serve immediately and enjoy!