The Lounge > Recipes >
Thursday, 16th February 2012
Delicious Beef Stew
Delicious Low Fat Beef Stew
Ingredients: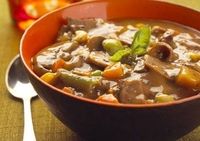 • 1 lb. lean boned beef chuck roast, trimmed of fat and cut into 1" pieces
• 1 small jalapeno pepper, seeded and minced
• 3 cloves garlic, minced
• 28g all-purpose flour
• frozen de-fatted chicken stock , thawed
• 3 russet potatoes, cubed
• 1 lge. onion, thinly sliced
• 1 c. whole kernel corn.
• 1 c. diced sweet red peppers
• 3/4 tsp. fresh cracked black pepper
Directions:
1. Coat a Dutch oven with no-stick spray and place over medium-high heat until hot.
Add the beef, jalapeno peppers and garlic.
Cook, stirring, for 5 minutes, or until the beef is browned.
Add the flour.
Cook, stirring, for 2 minutes.
2. Add the stock, potatoes, onions, corn and red peppers.
Bring to a boil.
Reduce the heat to medium.
Cover and cook for 25 minutes, or until the stew is thick.
Add the black pepper.
Stir well to combine.