By: Peter Robson
I started to go to the gym in my late teens. I loved the feeling of pumping Iron, getting my body bigger, getting abs, getting more attention from the ladies and just generally feeling great! Bodybuilding was amazing. You could sculpt your body any way you wanted and when you are young, anything you do in the gym seems to give great results!
I used to read Muscle & Fitness and Musclemag magazines avidly. I couldn't wait for the next issue to come out. Musclemag was a particular favourite of mine just because of the way it was put together. It always had great cutting-edge stories, sexy ladies and big good looking, healthy and happy bodybuilders. It was exciting to read. It had passion, it had flair and most of it came from its founder.
Like many businesses that have a passionate person behind them, Musclemag was different. You could see that from a quick glance through the pages. Years later it changed slightly and became more of an advertorial magazine - possibly due to financial pressures. For a good few years, Musclemag was a fantastic magazine and gave joy to many many bodybuilders.
Musclemag International, as it was known then, was the brainchild of Robert Kennedy. He was the driving force and creative director of the magazine and you have to admit, he was a pretty special man. However what is not so widely known is how tragic his final years ended up being. Life is like that. You never know when tragedy can strike and when those "amazing years" seem hard to get back. Some people are lucky and have many years of happiness and great times. Others, like Robert Kennedy go through a tragedy that seems to change the course and ultimate ending of their life.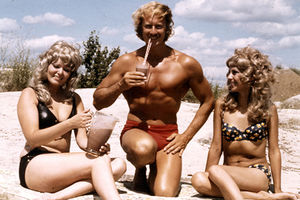 Robert Kennedy was a school teacher who was passionate about bodybuilding and started out a media empire through his passion. He was a prolific author with over 50 books to his name, and entrepreneur, opening up dozens of fitness shops in the 1990s. Robert Kennedy is also credited with discovering and helping launch the careers of numerous fitness models and bodybuilders including the beautiful Trish Stratus, Victoria (Vicky) Pratt, Miss Olympia Cory Everson, actor Roland Kickinger and Mr Olympia Ronnie Coleman. Arnold Schwarzenegger was also a long-term friend and was regularly featured in Musclemag.
In his editorials and his magazine columns for Musclemag, Robert Kennedy always came across as happy and a man with a great life. Kennedy had two children, a son named Braden and a daughter named Chelsea, with his first wife. In 1998 however, Kennedy and Braden who was then 11 years old at the time were in a horrific car crash. Kennedy was thrown from the car but his son Braden suffered severe brain damage and would thereafter require round-the-clock care. Sadly, Braden died in March 2011 due to pneumonia complications. After the accident, Kennedy's first wife committed suicide - many say due to the pressures of caring for Braden.
In February 2012 Robert Kennedy was diagnosed with cancer. Ironically, he never smoked and lived a healthy lifestyle. He tried many alternative methods to beat it, such as high doses of vitamins and eating clean but the cancer spread and he succumbed to it. Arnold Schwarzenegger paid a surprise visit to Robert in hospital in his final days. The action star knelt by Kennedy's bedside to hold his hand, while the pair reminisced about old times and shared some jokes. Despite being very weak, Robert posed for a last photo with Arnold.
Robert Kennedy died on April 12, 2012 in his Caledon Hills, Canada home. He was surrounded by his second wife and family. The magazine Musclemag International ceased publication on June 7, 2013 after Robert Kennedy Publishing declared bankruptcy.
RIP Robert Kennedy and thank you for making the lives of many bodybuilders so much more exciting.