The Knowledge > Recipes >
Wednesday, 8th August 2012
Tuna Summer Salad
High protein Salad
By LA Muscle on 08.08.2012 12:25 pm
Ingredients: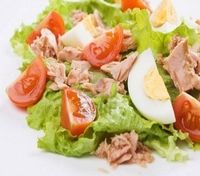 1 Can Tuna in Brine
1 Boiled Egg
1 Tomato
200 Grams Lettuce.
Directions
Put Tuna in the bowl
Boil and slice the eggs on top of the tuna
Cut your tomatoes and lettuce into the bowl
Drizzle a tablespoon or two of Olive Oil
Add some lemon juice (optional)
Mix thoroughly
Enjoy!
Simple, meal done, protein supplied!