The Knowledge > Recipes >
Tuesday, 16th October 2012
Tuna and Egg Salad
High Protein Tuna and Egg Salad
By LA Muscle on 16.10.2012 10:25 am
Ingredients: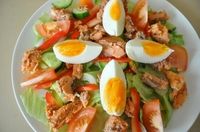 • 100g Lettuce
• 2 large tomatoes, sliced
• Fresh chives, snipped
• 2 eggs
• 200g fresh tuna
• 100g Cucumber
• 2 Tablespoon Vinegar
Method:
1. Place the eggs in a small pan of boiling water and bring slowly to the boil. Cook for 3 mins, drain, rinse under cold water and remove shell.
2. In the meantime, griddle the fresh tuna steaks and chop up your salad
3. To serve, place the tuna on a bed of the Salad
4. Spoon over the Vinegar then top the tuna and salad and stir.
5.Enjoy!