The Knowledge > Recipes >
Tuesday, 27th March 2012
Healthy Chicken Sandwich
A great packed lunch to bring with you to work or to have for your post workout
Ingredients - Serves: 4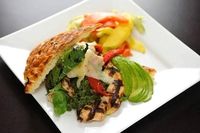 • 4 skinned, boned chicken breasts, about 125 g (4½ oz) each
• 1 tablespoon butter, melted
• 1 clove garlic, crushed
• Salt and black pepper
• 2 teaspoons clear honey
• 1 tablespoon lemon juice
• 1 tablespoon balsamic vinegar
• To garnish: fresh flat-leaved parsley
• wholemeal bap

Preparation method
Prep: 5 mins | Cook: 12 mins

1. Heat the grill to medium. Place the chicken breasts between two sheets of cling film and beat them with a rolling pin to an even thickness. Brush them with the butter and place in a wide flameproof dish or pan.

2. Sprinkle the chicken with the garlic, season lightly, then drizzle with the honey and lemon juice.

3. Place the chicken under the grill and cook for 5-6 minutes until golden, then spoon the balsamic vinegar over. Turn the breasts over, baste with the pan juices and continue grilling for 5-6 minutes until the chicken juices run clear when the breasts are pierced with a knife.

4. Serve the chicken breasts, spoon the pan juices over them and garnish with parsley.

Nutrition Value Per serving:
324 calories
39 g carbohydrates
26 g protein