Monday, 26th January 2009
Feta & Pomegranate salad
Delicious funky salad
This healthy salad is a feast for the eyes and the tastbuds, with salty feta and sweet pomegranate.
Serves 4
Ready in 45 minutes

Nutritional Information
Per serving:
242kcals
18.8g fat (8.1g saturated)
9.2g protein
10.1g carbs
8g sugar
1.8g salt
Ingredients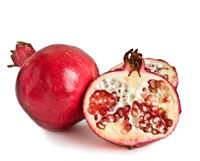 2 pomegranates, halved
1 red onion, finely diced
3 tbsp olive oil
2 tbsp red wine vinegar
200g good feta (look for barrel-aged)
2 large chicory heads, 1 red and 1 white, large leaves roughly torn
Small bunch of fresh mint, leaves picked
Method: How to make feta and pomegranate salad
1. Working over a bowl, knock out the seeds from each pomegranate half by smacking the skin quite decisively with the back of a wooden spoon. Pick out any strands of pith that escape. Mix the seeds with the onion, oil and vinegar and season to taste. Set aside for 30 minutes, as the maceration will create a dressing.
Tip
Try this with goat's cheese and buffalo mozzarella, too.
2. Slice or break the feta into bite-size pieces and add to the pomegranate. Add the chicory to the bowl along with most of the mint leaves, gently combine and transfer to a serving dish. Serve garnished with the remaining mint leaves.