Sunday, 18th January 2009
Nutrition Plan
Comprehensive nutrition plan for optimum fat loss
Diet...NO.... Nutrition Strategy


Diet Nutrition Plan "we don't use the word diet as diet employs a beginning and end"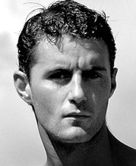 By: Simon Howard, model

Everyone places a different emphasis on the importance of diet / training / attitude. If you take a look around your gym you will see loads of people training hard doing loads of cardio etc. But look at them in 6 months and do they still look the same? Odds are they look the same, now what you don't see is what they do in the over 23 hours of the day, eating sleeping and resting. Common sense tells us that our body's work in synergy, it's a combination of all these factors that dictates what shape we are in and how quickly we achieve our goals. Firstly there is no one solution, no right and wrong way. What follows is the balanced approach I've taken to my nutrition this year.
I believe in a layered approach that can be altered according to your progress. So I will take you through the layers and a little bit about my nutrition plan.
Layer 1 - Clean Up


Almost a pre-diet diet (I know we shouldn't be using the "D" word). The goal of this layer is to get all the rubbish and get your nutrition to look like an athlete. I like to work with bullet points, set myself mini targets, weekly or daily whatever works. By taking these smalls steps, it avoids major changes and keeps everything easy to adapt to.
An example is


WEEK 1
Cut out all junk (Absolutely no chocolate, crisp, take away etc)
Eat multiple meals (6 meals a day, this can be 3 meals and 3 snacks,)
Protein at every meal
Only one cheat meal a week
By employing this approach it eases you into your diet and you should start losing fat (were after fat loss not weight loss, anyone can lose water and muscle) with little effort. The main points in this section are
Cutting junk food
Eating multiple meals
Same as above eating every 3 hours
Making sure the meals contain quality Protein / Carbs / Fat (please see the list of good food choices)
Limit cheat / non diet meals
Be Consistent, you need to follow your plan day in day out to get results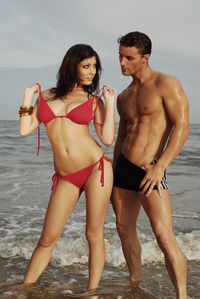 That's about it for Layer one. This layer can last as long as you want 1 - 4 weeks. You should be monitoring your weight (again weight loss isn't the whole story remember to use the mirror to monitor if its fat or muscle your losing) to make sure your moving in the right direction. Some good food choices are below, you can be creative with these and use your common sense to determine good choices, we all know the difference between healthy and unhealthy foods.
Protein, - Chicken / Turkey / Steak / Tuna / Salmon / Eggs / La Whey
Carbs, - Oats / Rice / Potatoes / Vegetables
Fats - Flaxseed Oil / Nuts / Fatty Fish / Eggs
Layer 2 - The Numbers


I'm a lazy person, and hate weighing and measuring foods but it is important to establish a baseline food intake. If you just measure your portions by eye it's very easy to allow extra food, there is a number of easy methods to establish consistent portions without have to weigh everything. If you are happy the measure everything great, you will be able to be exact with your portions. The method I ended up using was cups, I bought a set of American cup measures from a supermarket (they only cost pennies) and theses allow me an easy way to monitor my portions. To make my life easier I only counted Carbs and fats. Protein, I would just make sure I was getting a good serving at every meal, 1 chicken breast or tin of tuna etc. So for example a typical lunch would be

1 cup cooked brown rice / one medium chicken breast / 2 onions / 1 tbsp flaxseed oil
Nice and simple and we know the calories, carbs etc will be approx the same every time. By doing this we establish a baseline food intake. Now by monitoring your weight we can adjust your food intake to keep your fat loss going. For instance if you are losing weight on your baseline plan, stick with that plan until the weight loss slows. Then we can take away from the diet, I would start with taking ¼ a cup of rice away from my lunch and dinner. This creates a calorie deficit that will cause the fat loss we are after. Again you can continue with this stage as long as it continues to work. Be careful not to reduce your food intake too much, I only dropped my carbs to half a serving, i.e if I started with 1 cup I worked down to ½ a cup. Below is my initial nutrition plan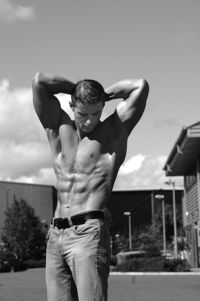 TRAIN (10G Glutamate) 1 CUP OF COFFEE
POST TRAINING - 2 SCPS GLUCOSE / 2 SNACK A JACKS CRAMEL / 2 SCOOPS LA Whey 2.2KG
MEAL 1 - HALF OAT CAKE, 1 SCP WHEY, 1TSP PEANUT BUTTER
MEAL 2 - 1 CUP RICE, 1 TIN OF TUNA, VEG, 1TBSP OIL
MEAL 3 - HALF OAT CAKE, 1 SCP WHEY, 1TSP PEANUT BUTTER
MEAL 4 - LEAN MEAT (CHICKEN/TURKEY/BEEF), 1 CUP RICE, 1TBSP OIL,, VEG
CARDIO (10 G Glutamate) 30 MINS WALK
MEAL 5 - 2 SCPS LA Whey 2.2KG, 1 TBSP PEANUT BUTTER, MULTI VITS ETC

I slowly reduced my food intake down to ½ cup of rice etc, this was dictated by the rate my body was losing fat. Don't be scared to keep your food intake high or even up it if you are losing weight to fast, all that good wholesome rev's your metabolic rate and keeps your burning calories. The trick is to be losing fat on as much food as possible this helps avoid muscle loss. I will mention recipes and tips at the end of the article.
Layer 3 - Food Choice

Reducing food intake and increasing exercise is great for losing fat but obviously you reach a point where the body will become catabolic (where the body breaks down at a faster rate than it can rebuild itself) if you continue. My way too combat this was rather than reduce my food intake further I decided to alter my food choices to lower calorie choices. For instance on the above plan the first thing to go was the peanut butter, butter peanut is great but there are much more efficient fat sources available. So peanut butter would be replaced with Flaxseed oil or a good oil blend. The next major change was to change to only a lean low calorie protein source, so steak was replaced with chicken or turkey. Then Turkey mince was replaced with turkey breast. So the above Nutrition plan after layer 2 and layer 3 is

TRAIN (10G GLUTAMATE) 1 CUP OF COFFEE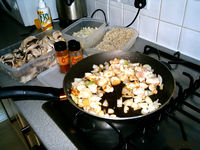 POST TRAINING - 2 SCOOPS LA Whey 2.2KG
MEAL 1 - HALF OAT CAKE,
MEAL 2 - 1/2 CUP RICE, 1 TIN OF TUNA, 1TBSP OIL 2 ONIONS
MEAL 3 - HALF OAT CAKE,
MEAL 4 - 1 CHICKEN BREAST, 1/2 CUP RICE, 1TBSP OIL, 2 ONIONS
CARDIO (10 G Glutamate) 30 MINS WALK
MEAL 5 - 2 SCPS LA Whey 2.2KG, 1 TBSP OIL, Multi_Protector ETC

So you see by slowly reducing the food intake and food choice we can maintain a good fat loss on a nice healthy plan with lots of good quality food. As you will notice above every meal is still balanced, we have no carbs post training (this should be last thing to go as your body needs carbs after training to recover) to reduce total calories, oatcake is a blend of oats and whole eggs (fats, carbs and protein) the rest of the meals are well balanced. We have omitted carbs from meal 5 to further reduce calories, you will use less energy when you are asleep so don't need as many carbs. We have kept the fat in this meal so it slows the digestion of the protein and we can drip feed our muscles during our sleep. Again its sticking with stage and tweaking it as the scales and mirror tell you.
Tip and Recipes

Part of sticking to a diet is making it convenient and making sure it fits your life style. So obviously it's all the basic tip here
Make sure your cupboards are stocked with your diet foods
Always make a shopping list
Do your weeks / months shopping in one go, avoiding frequent trips to shops avoids temptation
Cook your food in bulk, I always have a big tub of cooked rice ready in my fridge
Don't carry loose change, means you haven't got the money for that sneaky chocolate bar
Always have your meals with you (I like to have my next 2 meals with me in case I get held up)
Use spices and seasonings to help you attain your goals, Cayenne pepper and cinnamon are both potent fat burners / thermogenic and are pennies in supermarkets
Cheat meals, you can keep cheat meals in but your progress will be quicker without them, trust me (I know wish it wasn't)
Above are only a few basic tips but there are literally 100s of little tips
A few meals to make diet meals quick and easy. These are two meals I eat everyday on my diet.
Oat Cake - I read about this from Ian Duckett and have tweaked my own recipe a bit. Bear in mind you will have to adjust the quantities to suit your diet.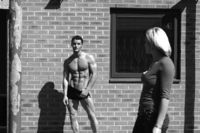 Ingredients

1 cup of oat
6 egg white 2 yolks
¼ cup raisins
¼ pitted dates
1 chopped banana
1 tbsp cinnamon

Mix all the above ingredients in a large mixing bowl, and place in microwave for 5mins on high power. Allow to cool and serve. The above recipe makes 2 servings for me.

Chicken / Tuna and rice
1 chicken breast / 1 tin of tuna
½ cup cooked rice
2-4 onions
1 chopped cup mushrooms
2 chopped bell peppers
1 tbsp chilli powder
1 tbsp cayenne pepper
Low cal cooking spray

Chop all ingredients small, lightly fry chicken/tuna in low cal oil. Add chilli powder and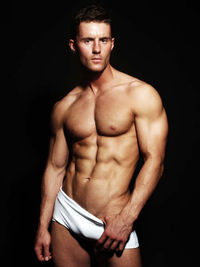 cayenne pepper. When chicken is cooked add veg (onions, mushrooms and peppers) and continue to stir fry. Add the cooked rice last, lightly fry in oil. And serve, trust me the chilli powder and cayenne will make sure your getting your 4 litres of water down a day.

Well that's it, no secrets just a balanced measured approach that you can tailor to fit your lifestyle. Just remember be consistent. This doesn't work with days off, follow your plan everyday and you'll reach your goals quicker.
The No Plan - Plan


What do you do after you've achieved you've achieved your fat loss goals? Well as with anything its a learning curve. My goals are to stay in shape year round and not balloon up like I have done previous years. To do this I intend to employ the reverse of the above approach and slowly increase my food intake and food choices while monitoring my weight and body fat levels.