By Chris Jenkins British and World record holder
I use this 12 week peaking routine before each competition . I am currently using this routine on preparing for the WPC world championships in Atlanta, USA. My best competition deadlift is 331kgs(junior world record 25th of July 2004 Port Talbot) at a bodyweight of 89kgs.
I generally would begin in week 1 with 60kgs for 10 reps, making jumps of 10-40kgs on each set. You can tailor the jumps in poundage to suit yourself. The first set is done without a belt to warm up your abdominals and lower back, primarily to avoid injury.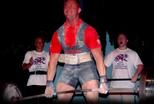 Each set & rep should be done explosively, I try to generate as much speed as possible from the floor to lockout. You should try to move 100kgs the same way you would try to move 300kgs, speed is the key to moving heavyweights and blasting through sticking points!!! After each rep rest the bar on the floor motionless(no bouncing)this will build static strength and help you to explode out of the hole.
*I begin each workout with 15 mins of stretching, my main focus being lower back, hamstrings and lats. Each week you should look for a moderate increase of 15-20 pounds depending on your recovery levels and genetics.
WEEK 1; 10 SETS OF 10 REPS(I know this may seem like a lot of sets and reps but it will build stamina in your training).
WEEK 2; 9 SETS OF 9 REPS
WEEK 3; 8 SETS OF 8 REPS
WEEK 4; 7 SETS OF 7 REPS
WEEK 5; 6 SETS OF 6 REPS
WEEK 6; 5 SETS OF 5 REPS (the weights at this week should begin to get heavy, remember that if your speed does begin to suffer drop back the weight a little,5-10 pounds. Speed with good form is very important.
WEEK 7; 4 SETS OF 4 REPS
WEEK 8; 3 SETS OF 3 REPS
WEEK 9; 2 SETS OF 2 REPS
WEEK 10; 1 SET OF 1 REP
WEEK 11; REST
WEEK 12; COMPETITION
Each week i increase my protein intake by 10grams. At week 1 my protein intake is 250grams, by week 10 it has increased to 340grams. I feel the higher protein intake aids in recovery, even though the sets and reps decrease over the 12 week period, the weights are continuously getting heavier. I personally find LA WHEY a very good source of protein also eggs,beef,turkey,salmon,chicken & milk.
Twelve weeks on this programme is very taxing on the body, you could also try adding some Creatine monohydrate to aid your recovery and strength. I find Explosive Creatine is one of the best products you will find on the market. 5mg pre workout and 5mg post workout. To get the best gains in strength out of this routine, try and keep your alcohol consumption down. Alcohol dehydrates the body and limits your maximum strength potential, robbing you of strength gains.
I hope my routine works for you, TRAIN HARD WIN EASY. Yours in training Chris Jenkins WPC junior world champion