Sunday, 18th January 2009
Crippler Calorie Super Smoothie
Check out wrestling champion, Chris Curtis super-smoothie Crippler Calorie smoothie.
CRIPPPLER CALORIE Super Smoothie is high calorie but can be adapted to suit those on both a 'bulk' and a 'cut'.
by Chris CRIPPLER Curtis, wrestling champion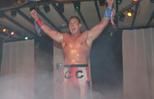 The following makes two large servings; practically I make this in the
evening and I have one serving straight away and the other is stored for
breakfast:
Ingredients:
1 heaped tbsp linseeds
400ml skimmed milk
1 medium banana
3 apples
3 heaped tbsp low fat natural yoghurt
100g oats
1 heaped tbsp of activated barley
3 scoops Maltomass
3 scoops LA Whey protein powder
Method

In a blender/smoothie maker, add linseeds, milk and chopped banana. Blend well in order to break all linseed and puree the banana. Then add apples, chopped well, protein, barley powder and maltodextrin. Blend well again, until all is mixed. Finally add oats and yoghurt and blend until it is lump free and drinkable.
It is fairly time consuming, so allow 20 mins to make and tidyup afterwards.
The shake can be quite thick, so you may wish to add extra water to form the desired consistency. It is very nutritious, providing 4 fruit servings,
essential fats, soluble fibre, calcium, high quality protein, and of course,
is very high carbs.
Should you wish to use this on a 'cut' I would omit the matodextrin and
barley and just use the remaining ingredients, maybe reduce the milk.
It's tasty and very filling too, so there's a complete meal.
Check out the latest photos from Chris: