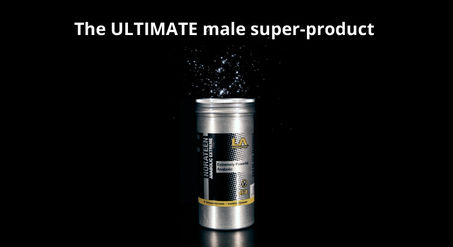 He was fairly quiet throughout 2007, but 2008 looks set to be the year for Rob Riches! One of LA Muscle's most prolific sponsored athletes, and the Golden boy of Fitness - quite literally judging by his colour in these photo's below, has been taking LA by storm, appearing on TV shows, entering fitness competitions, and being photographed by some of the top photographers in the Fitness Industry. It seems they can't get enough of Rob! Here's what he's been up to so far!

Rob left the UK in July last year to follow his career aspirations of being a fitness model in the US, since receiving many work offers after winning the title of Junior Lightweight World Champion at Musclemania in November 2006. "It was an incredible journey for me competing in Hollywood against the best in the World." Say's Rob, "and when I came back to England my desire to continue in a career based in fitness was stronger than ever. I must have made a good impression in the US as I started receiving emails from magazines and photographers asking when I would next be in the States. After only a few months back in the UK, I knew this was an opportunity for me that I could not let pass! I had made friends during my competition in '06, and was thankful when they welcomed me back, offering to me a place to stay in the heart of LA. It was a surreal feeling, and still is at times. My training has been as intense as ever, after all, it was because of my competing that allowed me to get to where I am now.
Rob's efforts in the gym were quickly noticed, and he stood out from the typical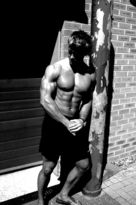 American Bodybuilders more focused on getting big, than having symmetry, proportion and definition. Rob was quite literally 100% British Beef! Rob trains at Gold's Gym in Venice, the Mecca of Bodybuilding - where it all started, where Arnold Schwarzenegger once trained, many of the fitness icons you currently see in the fitness magazines, and where there is nearly always some sort of photo shoot or video being shot there. "It's always an atmosphere when you go there" says Rob, "and I'll often see one of the famous faces of fitness there, but when I train, I train hard. Even though I've kept lean, my strength has actually increased. The other month I squatted 550llbs (250kg) for reps, and surprised myself with a deadlift of 550lbs (250kg). Considering I'm almost 2/3'rds the size of the big guy's in the gym," (Rob currently weighs in at 184lbs, with tight abs, and cuts not to far off from his competition best) "and with lifting similar weights as them, it's these kind of things get you noticed, and before long, I was having photographers come up to me giving me their details".
Rob has already networked with the top in the industry, working with Clark Bartram, who has graced over 130 fitness cover magazine (www.clarkbartram.com) and has met and posed with the great Frank Zane (Mr Olympia '77, '78, '79) who is best considered the most aesthetic bodybuilder of all time. "Frank was always an inspiration to me. He won the greatest body building competition show on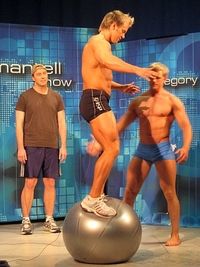 Earth (Mr. Olympia) at less than 200lbs. (Most of the Mr. Olympia's tend to be over 230+ lbs. He won it not of sheer muscle mass and feakiness of size, but on a well balanced, aesthetically beautiful body. He showed me that weight training didn't have to be intended for mass alone."
Rob made a big impact in 2006 on the natural bodybuilding scene, winning many UK competitions, including the BNBF Central, NPA Heart of England, and Musclemania Fitness Britain. 2007 was a quiet year in terms of competing, but Rob certainly wasn't slacking. "I entered a lot of shows in 2006. 10 in total, although not all were bodybuiding, but it took a lot out of me. I wanted to rest from competing for a year, and focus on training hard and building up an even better body for 2008."
Rob recently entered the Fittest Couple contest at the Ironman Expo in LA (Sunday 17th Feb), with his training partner friend, Alicia Naesmith, who is also a WNSO Pro, and to no surprise (certainly to all the LA Muscle team), was once again the best on stage.
"I had heard about the contest only a week before, and as I felt I was in good condition, wanted to see how I'd compare with other 'fitness models' on stage. I told my friend Alicia who had also moved to LA from Canada to follow her dreams in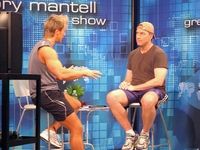 the World of Fitness, and she jumped at the chance to compete too" (We wonder why she wanted to compete? To be on stage with our Golden Boy, Rob Riches, or to win another title :-) -LA Muscle). "We had a week to prepare a routine and if that wasn't enough, we still had to qualify for the competition. Couples who wished to compete had to show up the day before the competition at the expo, and have a photo taken, from which the judges would select the top 10 couples to compete the following day. I was at dinner that night when I got the call to say we were through to the finals. Although I thought we had a very good chance of qualifying, it was still a relief to get the call!"
"Show day was no different than when I had competed in bodybuilding shows. The nerves mixed with excitement were all very present, in fact, the past week hadn't been to different from what I would do during the run up to a competition. Once you know something works, there's no reason to change it, and I've used the same techniques to get me ready for photo shoots as well. There were 10 couple back stage getting ready, one of which were Andy Ashton and his girlfriend, Mirella.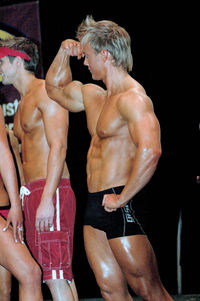 Andy is a good friend of mine, and I felt privileged to be competing on the same stage as him, especially as though he has won some pretty big model competitions. But I knew Alicia and I worked hard for this, even before we knew of the competition, and we had everything that we felt the judges would be looking for."
"The competition involved 2 main stages, not to dissimilar than a body building show minus the compulsories, and consisted of relaxed quarter turns together, a posing round together. There were over a thousand spectators, as we were in the main hall on the main stage. It was the biggest crowd I had ever competed in front of, but this just pumped me up even more. It felt so good to be back on stage competing. Especially in front of such a large crowd."
"Alicia and I had put together a flirty little routine, that consisted of model-like poses. The crowd seemed to really enjoy it. After all, it was fun and flirty, and entertaining. Something that both of out competitive backgrounds certainly helped with. We made it look effortless!"
"As the 10 couples were stood inline waiting for the winner to be called forward, I was in high spirits. And then it was called out, And the Winner is...... It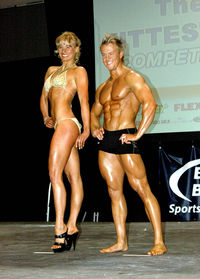 wasn't us! My heart sank, even though my smile stayed glued across my face. I couldn't believe we hadn't won. We looked the best on stage! After posing for photo's - lot's of photo's, for photographers, for magazines, with fans, with kids, which was one of the day's highlights for me, we went up to the judges and asked why we had not won. It turned out that the couple who won, Rado and his partner Dina" (Let's just point out here that Rado won the Musclemania Model competition in 2006, at the same time when Rob won the bodybuilding show - yet, less than a year later, Rob beat Rado in the FAME Fitness Model competition in Hollywood - LA Muscle). had put on this acrobatic display together that would not have looked out of place in Cirque Du Soleil, and would have been hard not to give them first based on that. They did say that we had the best physique's on stage, and that I had the best Abs (That's why he's our resident 'Ab's Doctor' :-) -LA Muscle), and had scored highly on all marks. We had them beat in the posing and quarter turns, but their routine was what had won it for them - and got them the $2500 prize money, and a magazine shoot with Ironman. Not to take anything away from the winners, as although i didn't see their routine, as we were all backstage at that time, I did see it on video after the show, and have to admit that it was very impressive. But also pleased that Alicia and I stood out as the best couple, and certainly matched each other well.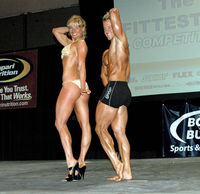 "It hit me that evening what I'd actually just done! Within less than a weeks notice, I had prepared and entered my first competition of 2008, in Los Angeles, at the Ironman Expo, in front of over a thousand people! A smile spread across my face. I was back! Throughout 2007 I had wanted to enter more shows" (Rob entered a FAME Muscle Model competition in Hollywood in September last year, a new category that was in honour to Kester Roomes, a fitness model who pushed the organizers for a new category between fitness modelling and bodybuilding, who unfortunately died in 2006 - LA Muscle). "But knew that in order to come back better, I needed to let my body rest, and change my training some what, as for the last half of 2006, all I had been doing was keeping my condition that won me the BNBF Middleweight in London. (That was just the start of things to come, Rob also won NPA championships, Musclemania Fitness Britain, qualified and finished top 4 in both Natural Bodybuilding organizations British finals, and even entered the PDI night of champions to prove that with Rob being 100% natural and drug-free, he could hold his own against the big boys, and he certainly in his own class that day on conditioning, with less than 3% bodyfat! - LA Muscle).
"This was really my first competition since I had given my body rest and changed my training. When I saw some photo's later that night I was very surprised at the changes I had made. I stepped on stage at 185lbs, some 10lbs heavier than when I won my bodybuilding shows some 18 months earlier. No, adding more weight was not my main goal, but I was certainly much thicker across my shoulders and in my legs. Plus, my conditioning was not that far off from when I did bodybuilding. Again, I smiled at the prospect of competing later this year again at the top of my weight category. Something I felt I was at a disadvantage from in my previous competitions. (Rob was winning middleweight competitions at only 74kg. The limit was 80kg!).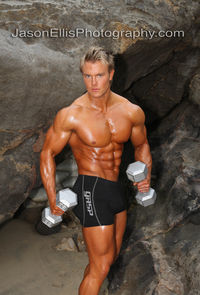 Rob's success did not end there though, the next morning he had been contacted by Jason Ellis - one of the World's top fitness photographers, who has shot many if the fitness greats, including Jay Cutler, Flex Wheeler, Ronnie Coleman and Monica Brant. In fact, if you pick up any fitness magazine, you can be sure that Jason's name will be on more than a few of the photographs, with many covers also to his name.
"I had seen Jason's pictures in many magazine's and really likes how he worked. He has worked with all the top fitness' model's and bodybuilders and now HE was contacting me to arrange a shoot! One of the things about being a fitness model is that you've got to be ready! You've always got to be ready. Ready to shoot at the drop of a hat. Always in top condition, or at least a few days out from it. I was ready! More ready than I had ever been in fact, and was in high spirits after stepping of stage at the Ironman and being told I had the best body on stage. What's more was that I was at the perfect blend of muscle and tone without being too lean - a look that the fitness magazines tend not to favour as it depicts an image unobtainable to most of their readers."
It was Monday when I got the email. Jason wanted to shoot me the next day. Thank fully i hadn't blown all my hard work on a big meal after the show, and therefore was still tight and lean. I still had most of my tan still left on, which I had managed to get a free professional spray tan at a new, state of-the-art tanning salon in Hollywood, which looked golden dark, and natural." (Hollywood Riches really is living up to his Golden Boy image on both sides of the ocean :-) -LA Muscle).
Although I had seen Jason before, I had never met him, and was quite shocked to see how model-like himself he is. Jason regularly worksout and although has never competed, he certainly had the qualities should he wish to. I later found out that before he tookl up photography (Jason's been at the top of his game for over a decade now, and is still only in his early thirties!), he had modeled for capaigns for Nike and Adidas. He certainly had the experience to shoot for fitness, having been on both sides of the lens.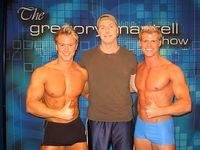 Jason wanted to shoot a fitness routine down at Huntington Beach, with attempts for a cover for Exercise and Health magazne. Thankfully LA is fairly warm still in February and walking on the beach with your shirt off is not uncommon, but how many people do you see in tightly clad workout shorts having a workout? (being so close to Hollywood, it wouldn't surprise us! :-) -LA Muscle).
"The workout, (although not intended to be followed at a beach) was to show a full body workout using dumbells, and focused on shooting the start and end of each exercise, which may sound easy, but you try and stand shoulder pressing a set of dumbells (even light ones, which by the way, these werent particularly light - Jason said he wanted to see 'real effort' in the exercises and not to fake it by using light weights. Fine for him to say but he wasn't having to isometrically hold dumbells out in front of him for minutes at a time!). (next time your in the gym and someone is using your weights, try picking up a light set and hold the end position of the exercise you are doing. Hold it for as long as you can. The pump you'll get is insane, and will really warm you up for your heavier sets!)
The fitness shoot lasted for just over an hour, which is pretty quick considering the amount of different exercises you can do with dumbells, and having to photograph start and finish points of each one. Jason then wanted to get some of the lifestyle shots he has become famed for. This usually involves Jason shooting the model's stretched out on rocks or close up's of a contorted, well conditioned body to show off all the cuts and definition that are rarely seen .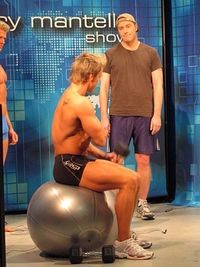 Mine was to be no different, with Huntington Beach having some great rock fronts. Again, I'm convinced Jason had the easier job of shooting, as I clambered bare foot up the barnicled covered rocks, and having to precariously position myself over jaggered edges. No wonder Jason only works with top athletes, no one else would be able to get into the positions he's so known for shooting.
We worked through a range of bodybuilding shots against the reddish backdrop of the rocks, and some which wouldn't have seemed out of place on a yoga class, all with the focus on stretching the body out, and squeezing the muscles, all of which required my full strength and efforts in order not to fall between many of the giant rocks that I was perched over.. We then went over to a cavern that, thankfully, didn't involve climbing over any more rocks. Jason wanted to try for a cover shot here, so back came the weights and we tried a few different shots that are typical of a cover shot. Except Jason's shots are anything but typical. Jason, like me, is devoted to getting the best from his work, as a I from my body. We must have tried the same shot, of holding both dumbells, with arms slightly bent, and a slight twist in the torso towards the camera, over 40 times, each time changing what I thought would have made no difference, but to Jason meant the difference between a stunning shot, and one that people would only look at and see my arm needed to be slightly higher, or my chin should have been facing the camera a little more. Yes it was hard work, but this is what I train for, and we both wanted the perfect picture. Then I heard it - 'Awesome, thats it, thats the one!' I relaxed my pose, but before I had a chace to put the dumbells down Jason looked up from the camera and said 'Great, let's try a few different ones!' it didn't surprise me. Just like if I had hit a personal best in the gym, I'd think 'Great, onto the next exercise', Jason wanted to get his 'next' great shot. My arms were burning from holding the dumbells, and my and were starting to cramp (you try squeezing your abs as hard as you can for over an hour and half, without only a few seconds rest after you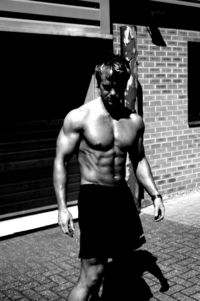 can no longer hold them!), but I wasnt about to stop, seeing as though I was being photographed by one of the best, with a potential cover on one of the Worlds best known fitness publications. In fact it only spurred me on even more! It reminded me of being back on stage, having to squeeze every muscle in my body for maximum definition for many minutes at a time, and was in my final call out against the best on stage. Like being the difference between winning and placing second, this could be the difference between getting a fitness cover, or being overlooked for the next guy. The competitions had prepared me for these types of fitness shoots, and Jason was impressed with my endurance and enthusiasm to taking more shots.
I remeber seeing a one of Jason's previous shots of a well known fitness model called T A Holben Who was stood with one hand on his waist and the other holding a towel over his other shoulder, whilst squeezing every muscle in his body. It was a shot typical of fitness, but one that really worked, and looked awesome when you had the right mix of muscle and condition. As Jason changed his memory card from his camera, I put down the weights and picked up the bungee straps I had used to pump up with. I threw them over one shoulder and with my other hand, gripped the front of my waist and squeezed every single fibre of muscle in my body as I blew all the air out, which helps to really tighten up the abs. Just as Jason had put a new card into his camera, I relaxed my facial expression and with my last breath of air, managed to say to him, 'what about this shot?' 'Thats great Rob' said Jason, 'hold it exactly like that, don't move!' as he started shooting again and looking down at his camera at the picture before making some minor adjustment. I was starting to feel as though I had shot myself in the foot with this idea, but focused on how I wanted the shot to look, and remembered again just who I was working with.
'Amazing Rob' said Jason as he was looking down at his camera again. I took that as a cue to relax my pose and get my breath back. I wanted to see the image myself but know from past shoots, asking to see how a shot looks on the camera, unless they offer to show you, is like the groom asking to see the bride in her wedding to dress to see how she looks. I don't know if seeing a picture on camera is bad luck or not, but I definitey didn't want to jinx a chance for another fitness cover (Rob's first fitness cover was for Healthy for Men magazine in early 2006 and was sold in GNC nationwide. -LA Muscle). Besides, it gave me something to look forward to once Jason had selected his favourite.
After nearly two hours of constant squeezing and exhaling, and Jason having taken hundreds and hundreds of shots, wez were were finally done. Jason complimented me on how well the shoot went and that he really enjoyed working with me. I was thrilled he had thought that, and hoped our efforts would result in a cover shot. Only time would tell!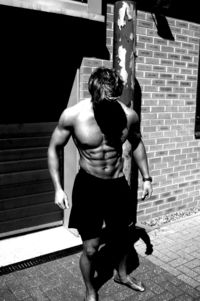 After my fitness competition last year in Hollywood (Rob narrowly missed out on a WNSO Pro card in the musclemodel category after the judging criteria was unclear and Rob's superior physique was over looked for a more Zoo-lander style model) I was invited onto 'The Gregory Mantell Show', a fitness based TV show that showcases many of the top model's, inviting them to demonstrate exercises and talk about what's important to them. I talked then about the importance of good nutrition and showed a few shoulder exercises. A couple of weeks before the Ironman show, I was invited back on again for the 'Brit Show' edition, which also featured fellow Brit Model, Andy Ashton. This time I talked a new book I am involved in writing:- Progressive Cycles and Core Nutrition, which informs people how to get the most from periodized training and from the foods they eat. I also demonstrated core training with a Swiss Ball, including standing on the ball without any help, which proves that you can be strong and well-muscled, as well as being agile and good stability.
The show is a great way to gain further exposure, and opens up many new possibilties, such as TV and Film work, national Print campaigns and much much more.
- Rob has already had been cast in two indepentant films, including a large, well-known shopping mall store's main advertisement, which has yet to be made public. As well as TV and Film work, Rob has been picked up by several large Model and Talent agencies, including a large NY based agency and one that supplies many of their talent to the likes of Nike.
All of us at LA Muscle knew that Rob was destined for big things, since he first came into the LA Muscle Head Office, eager to step on stage and compete. With a little direction and support from LA Muscle, we didn't quite expect him to take off so fast, winning World Titles, appearing on TV shows, working with the Worlds top photographers and jet-setting back and forth to keep his name at the top.
2008 looks set to be Rob's biggest year so far, with America's Fittest Model competition already in his sights, along with the FAME UK show at the SENI show later this April and with two fitness World Finals already marked on his calendar, we expect its just a matter of time before we see Rob with his Pro card, and with the way things have been going recently, we don't expect it will be too lobg either. Oh, and expect to see Rob back on the natural bodybuilding scene later this year! You can count on one thing, and that will be Rob turning up in better condition than ever!!
Rob Riches, we salute you in your efforts and sheer determination to follow your dreams, and are proud to have had you on our team for all these years.
With all the LA Muscle team behind you, we know you've got what it takes to go all the way to the top.