Friday, 12th June 2009
Angel Mckenzie on Big Brother 10
LA Muscle sponsored athlete on Big Brother...more on Angel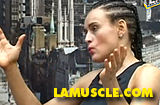 Angel McKenzie, one of LA Muscle's best known sponsored athletes has made it to the small screen on Channel 4's Big Brother 10.
Angel is a totally unique character and no wonder she was selected. There's certainly no one like her! Angel has had a singing career as well as a highly successful boxing career.
In this interview she talks about her life and demonstrates some of the boxing techniques that have made her famous in the ring.