Wednesday, 13th May 2009
Diced beef and fine herbs
Apetising beef dish
Nutritional Information (per person):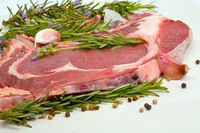 Kcal: 316
Proteins: 22g
Carbohydrates: 12g
Fats: 20g
Ingredients:
400g tenderloin beef
ground bay leaf
thyme
tarragon
rosemary
olive oil
black pepper and salt
To garnish:
1 leek
3 baked red peppers
carrot puree
Cut the beef into small pieces, season with salt and pepper, then fry until golden in a little olive oil. Remove from the pan and keep to one side. Prepare dressing from the herbs by mixing the bay leaf, thyme, tarragon and rosemary together in a bowl with little olive oil.
Place the beef on a plate and pour the dressing over the top.
Add salt and pepper if necessary and serve with the baked leek and peppers and carrot purée.