Wednesday, 13th May 2009
Chard stems and leaves with Beef
Alternative recipe
Nutritional Information (per person):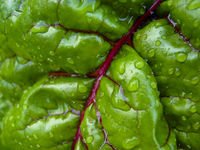 Kcal: 414
Protein: 37g
Carbohydrates: 26g
Fats: 18g
Ingredients (serves 4):
For the stems:
10 Chard stems (10-15cm)
1 stock cube
salt and olive oil
1 bay leaf
1 onion
3 cloves of garlic
hot water
For the chard and beef:
400g beef fillet cut in strips
chard leaves
2 cloves of garlic
200g brown rice
olive oil
salt
Remove any string from the stems and cut into pieces. Cook in salted water with half the vegetable stock cube added. Strain when they are soft.
Chop the onion and garlic and fry in a pan with the bay leaf. When they are cooked, add the chard stems. Aside, dissolve the other half of the vegetable stock cube in boiling water and pour over the stems.
Leave to cook until it thickens.
Salt the fillets and lightly fry in a frying pan. Serve on a plate with the cooked chard and a tomato. Serve with the stems and a helping of brown rice.