Takaloo beats Eamonn Magee for WBU Title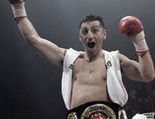 Takaloo beat Eamonn Magee last night to win the WBU Welterweight Boxing Title.
Takaloo who recently dropped to the Welterweight division is slowly making a huge comeback. The match last night was his second to be shown on ITV to millions of viewers.
LA Muscle has been supplying Takaloo with a variety of powerful sports supplements to make him stronger, faster, more muscular, leaner and help his recovery from training.
Amongst some of the products used by Takaloo are Explosive Creatine & LA Whey

After the fight Takaloo said:
"I proved tonight that you cannot write me off because I keep coming back and in there tonight against a good fighter I felt stronger than ever. I wish I had moved up to welterweight years ago because it feels so good and now I am convinced you will see the better of me and I will go on to win a major world title. Magee did not come to fight in there and it was just a case of trying to hunt him down but I managed to do it and I am so happy. They said it was all over but my future is definitely bright."
BIg congratulations goes out to Takaloo for doing exactly what he said he would do.