Martin Green wins GOLD at the Europeans 2006
The amazing Martin Green has won GOLD at the European Bench Press Championships 2006.

This is what a very happy Martin had to say: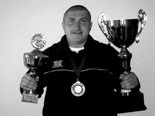 "I have just won Gold at the European Bench Press Championships 2006 in Italy (Fagnano Olona, Varese). The competition was held between 12-14 May. I lifted on the 13 May. This is the 4th consecutive year I have won the European championships, I'm also the current World Bench Press Champion which I have won for the past 3 years. I lifted in the 90kg class, actual bodyweight 89.75kg. I lifted 212.5kg on my opening lift. I attempted 217.5kg on my second lift to increase my current World Record of 216kg but didnt succeed. The person in second place lifted 200kg. There were about 140 lifters in the competition. I was a bit disappointed as have done 227.5kg in training weighing 93kg I think the loss of body weight affected my lifting.
I am considering lifting in the 100kg bodyweight class in my next competition. I would also like to thank my sponsors LA Muscle for helping towards the cost of my supplements. The supplements I was taking leading up to the competition were Explosive Creatine, Sculpt and V.I.P Protein.
Web site to verify me holding the World Bench Press Record:
http://www.worlddrugfreepowerliftingfederation.org/records2005/records2005.html
select 90kg bodyweight class and scroll down to Single Lifts."
Well done Martin, we're proud of you!