Exclusive members only offer! Limited free spaces so hurry...
Offers to LA Muscle Black Card members just get better and better.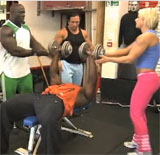 You can now get a 1 hour FREE training session with two of the best-known personal trainers in the UK. If you are a normal person, don't let their size scare you - Eddie Abbew and Carmen Knights are incredible personal trainers with amazing motivational and training techniques. They are also extremely friendly.
This is a rare once in a lifetime chance to get a free training session with one or both of them. As an LA Muscle Black Card Member, you can arrange your free training session now. You just have to turn up at their Olympian Gym (as seen on TV) and show your LA Muscle Black Card.
Call 01442 248777 or email marlowsfitness@yahoo.com
Olympian Gym, 31a Marlows Centre, Hemel Hampstead HP1 1DX.
More details in My Account below:
My Account
More exclusive offers of all sorts coming soon...