The following is an article by Geraint Nicholas, the current Masters World Powerlifting Champion. It outlines his training & eating regime. Please note that some of you may find that you may need slightly more carbs than Geraint for optimum strength, recovery and muscle size. This is a programme that works for Geraint, who has been training for some 20 years. In the 90kg he has broken the Welsh deadlift record 4 times with a best pull of 286kg at 88kg, drug tested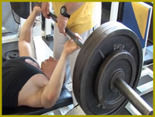 During my cylce of training for the I also kept a note of some of my assistance work , just to make sure I was progressing in the right direction.
week hack squats narrow bench d/lift off disc
7 170x5 110x5 165x5
8 175x5 112.5x5 170x5
9 180x5 115x5 175x5
10 185x5 117.5x3 180x5
11 190x5 120x3 185x5
12 195x3 125x2 190x3
After week 12 I would have cut back on the assistance work and concentrated on the 3 main lists to get ready for the competition.
SUPPLEMENTS
I take protien all year round . LA Whey 3 time a day. Before a comp I take Bio Activator . I also take explosive creatine for 3 weeks before , and last year I tried Norateen h/weight II with some good results.
ALCOHOL
I do not drink more than 2 pints at any one time from about 5 weeks before a comp. And usualy have a good drink about every 6wks. THE FOLLOWING IS AN OUTLINE OF MY WEEKLY TRAINING PROGRAMME:
MONDAY
SQUATS- 20KGX10 60X6 100X5 140X2 160X1 180X5
LEG EXTENTION-50KG 2X8
LEG CURLS 1X12
CALF 2X12
BICEPS 4SETS 8 REPS INCREASING WEIGHT EACH REP
ABS ON SET 25 REPS
10MINS ON ROWING MACHINE(WHICH I STOP 4WKS BEFORE COMP)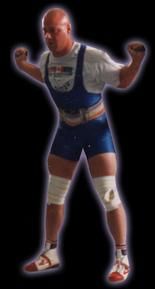 WEDNESDAY
FLAT BENCH- 20X10 60X5 80X3 100X2 110X5
NARROW BENCHPRESS-90X5 95X5
INCLINE ON MACHINE 110KG 2X5
DUMBELL FLYES 25KG 2X8
WEIGHTED DIPS 20KG 2X6/8
TRICEP PUSHDOWNS 2X8

FRIDAY
DEADLIFT 20X8 60X6 100X5 140X3 160X2 180X1 200X5
OFFDISC/ STIFF LEG 140X5 160X5
ROWS BENTOVER/SEATED 2X8
CHINS 2 SETS TO FAILIURE
BARBELL PRESS 20X5 40X5 50X5 60X5
LATERAL RAISES 16KG D/BELLS 2X8
FRONT RAISES 20KG D/BELLS 2X8
ABS - ONE SET
10 MINS ON ROWER(WHICH I STOP 6WKS BEFORE THE COMP)

THIS IS A TYPICAL ROUTINE AT ABOUT 8WEEKS BEFORE A COMPETITION WEIGHTS WILL BE INCREASED EACH WEEK , THIS I WILL GO INTO AT A LATER DATE.
BREAKFAST 5:50AM
TWO ROUNDS ON WHOLE MEAL TOAST AND A PROTEIN DRINK (MADE WITH HALF PINT OF SKIMMED MILK AND A SCOOP OF LA WHEY AND ONE OF PLATINUM)
BREAK 10:00AM
TIN OF TUNA (WITH SMALL AMOUNT OF LOW FAT MAYONNAISE)
TWO OAT CAKES
ONE YOGHURT
ONE APPLE
ONE FLAPJACK

LUNCH 1:00PM
SAME AS BREAK
BEFORE TRAINING 4:30 FLAPJACK AFTER TRAINING/ON ARRIVAL AT HOME PROTEIN DRINK (AS BREAKFAST) DINNER QUICHE (EGGS, CORNED BEEF, MUSHROOM, AND PEPPERS) SMALL PORTION OF ICE CREAM PIECE OF FRUIT SUPPER PROTEIN DRINK (AS BREAKFAST) THIS IS BASICALLY MY FOOD INTAKE IN A DAY. AS I TEND TO WORK 70HRS, 7 DAY A WEEK THIS IS MY FOOD INTAKE ALL WEEK.
I HAVE A DAY OFF ABOUT EVERY 3 WEEKS. ANY OTHER SUPPLEMENTS I TAKE WOULD BE TAKEN USUAL BEFORE AND AFTER TRAINING.
I DO NOT COUNT CALORIES OR GRAMS OF PROTEIN, etc. JUST EAT AS I THINK IS RIGHT AT THE TIME. AT THE END OF THE DAY POWERLIFTING IS NOT THE ONLY THING IN MY LIFE ALTHOUGH SOME PEOPLE PROBABLY THINK THAT I AM OBSESSED WITH IT. AFTER 20YRS OF TRAINING I WOULD LIKE TO THINK I HAVE TRIED MOST THINGS AND AT THE MOMENT THIS IS WHAT WORKS FOR ME.
MORE SOON.
GERAINT NICHOLAS, UK,WELSH & WORLD POWERLIFTING CHAMPION