The Lounge > How To Lose Fat >
Monday, 3rd June 2013
5 instant tricks to look skinny
Quick ways to look good
Wear black
Wearing black clothes tends to hide fat and make you look and feel better. Light coloured clothes, especially whites have a tendency to make you l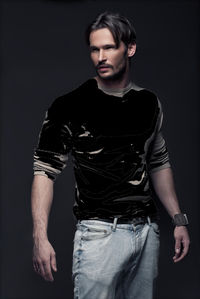 ook bigger and tend to show up all your fatty bits!
Stay away from fizzy drinks
Fizzy drinks such as colas and sparkling water have a nasty tendency to bloat you and make you look fat! If you want to start looking thinner and be happier with yourself, start drinking more still water and stay away from fizzy drinks.
Stand up straight
Many people look so much worse than they could because they have bad posture. If you are one of them, straighten up! Stand with your chest out, stomach in and head up high. This will make you feel instantly better and in time will have a good influence on you psychologically and physically.
Pay attention to your clothes
Don't just wear what you always wear. Pay attention to how it makes you look. For example ultra baggy clothes or ultra tight clothes are a big no-no. Tight belts which let your stomach hang over are a no-no. It's worthwhile to have clothes tailored for you; it's often not expensive.
Use tanning products
A tanned body looks better! You can use tanning products on your cheeks to darken them slightly and apply spray tan to your body. It works!