The Lounge > How To Lose Fat >
Wednesday, 26th December 2012
10 crazy and innovative ways to lose weight
Lose fat with these new ideas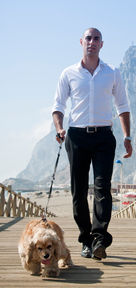 Offer to take your neighbour/friend's dog for a walk! This will get you out of the house every day and force you to exercise and lose weight.
Swap your lunch or dinner with someone who eats less than you!
Offer to help someone decorate their house. Painting and decorating can be a great way to burn calories.
Have a fruit and salad only day. Eat nothing but fruits and salads for one day. This will detox you, shrink your stomach and give your body a break to start working healthier.
Put all your sweets and chocolates in a box and take it to a homeless shelter near you. Do it now.
Throw out all your comfortable clothes and only keep ones that are slightly too tight on you. Aim to fit in them within a month or face the embarrassment of looking odd.
Have a protein only day. Eggs and cheese for breakfast, fish and lean meat for lunch and chicken/tuna for dinner. Lots of water during the day.
Make traveling to work more fun by choosing alternative public transport routes and walking more. For example, get off one stop before where you need to.
Take up a sport that you love even if you think it won't burn fat. Any sport is better than no sport. Example: Ping Pong.
Offer to do the shopping for an elderly neighbour and make sure you walk to the shop and carry the shopping back.