Tuesday, 14th October 2014
Lose weight with CLA
How CLA can aid weight loss
LA Muscle's Sculpt is a patented weight loss supplement specially formulated with Conjugated Linoleic Acid (CLA), essential fatty acids and VitaminE.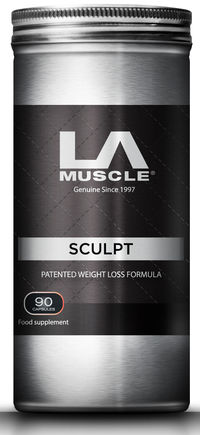 CLA first came into the limelight when it was discovered to have potential cancer-fighting properties during research in animals. However, since this discovery, CLA has been associated with increasing metabolic rate, decreasing abdominal fat, enhancing muscle growth and boosting the immune system.CLA consists of linoleic acid molecules (or more commonly, fatty acid) found in meat and dairy products that have been derived from ruminants, such as cattle, sheep and goats. A less common source of CLA is mushrooms. Surprisingly however, kangaroo meat provides the highest quantity of CLA.
Another important ingredient found in Sculpt is essential fatty acids. Yet, don't be deceived by the name essential fatty acid because they do actually play an important role within the body's metabolic processes and the life and death of cardiac cells. Fish, shellfish, soya oil, flaxseed, pumpkin seeds, leafy vegetables and walnuts are all beneficial sources of essential fatty acids (EFA). It is important to prevent deficiency of EFA as it is has been previously linked to illness, such as osteoporosis. Additionally, omega 3 (an EFA) has also been shown to protect against heart disease. Whilst exact quantities are yet to be confirmed, experts suggest that we require around 20-40ml of omega 3 per day for optimum functioning. Even when consuming a high quantity of the natural food sources it is unlikely you will meet this recommended amount but by taking LA Muscle's Sculpt supplement, you certainly will.
Vitamin E is a fat-soluble vitamin found in foods such as dark and leafy vegetables, like kale, as well as nuts, eggs, liver and avocado. Vitamin E is an antioxidant and so prevents cells from being damaged by free radicals. Vitamin E has also been associated with improving sporting performance, increasing fitness, aiding weight loss and helping muscle production and function.