The Lounge > Recipes >
Peanut Butter Pancakes
Delicious, creamy and nutty breakfast alternative
Start your day with this delicious, nutty breakfast alternative using LA Peanut Butter for the perfect taste.
Ingredients: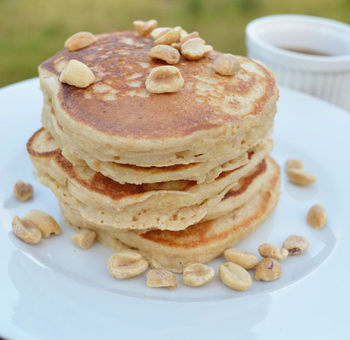 - 1 1/2 cups all-purpose flour
- 6 tablespoons sugar
- 2 teaspoons baking powder
- 1/4 teaspoon salt
- 1 1/4 cups milk (semi-skimmed or skimmed)
- 1/4 cup LA chunky peanut butter
- 1 tablespoon vegetable oil
- 1/2 teaspoon vanilla extract
- 2 large eggs, lightly beaten
(Quantities to serve 5)

Directions:
1. In a large bowl, mix the flour, sugar, baking powder and salt. Combine milk and remaining ingredients in a different bowl. Add the flour mixture to the milk mixture.
2. On a hot non-stick griddle add about 1?4 cup of the batter. Cook until the top of the pancake is covered in bubbles, then turn and cook the other side.