The Lounge > Recipes >
Vanilla Pot De Crème
A Wonderful dessert Full of protein low in Carbohydrates. Vanilla Pot de Creme
Ingredients: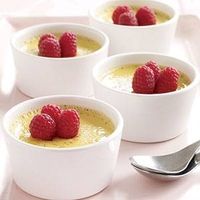 • 125ml heavy cream
• 1 Scoop Vanilla LA Whey
• 1 vanilla bean
• 4 egg yolks
• 5ml splenda
• 10ml real vanilla extract
Directions:
1. Preheat oven to 400º. Boil 4 C water in a saucepan or teapot.
2. Split the vanilla bean and scrape out the seeds, saving them.
3. Heat the cream in a saucepan over low heat, and add the vanilla bean and seeds. Stir occasionally until small bubbles form around the edges.
4. Meanwhile, beat the egg yolks and Splenda at high speed until the mixture is pale and frothy.
5. Mix the vanilla extract into the cream, and remove the vanilla pod.
6. Whisking constantly, slowly pour the cream into the egg yolks. Once combined, pour the mixture into 2 medium or 4 smaller ramekins or cups.
7. Place the cups in a glass baking dish and pour the boiling water around them to about halfway up the sides.
8. Place in the oven and bake 30-40 minutes (depending on the size of the cups) until the center is barely set.
9. Remove from the oven and allow to cool in the baking pan and water to room temperature.
10. Cover the pots and refrigerate overnight (small cups) to 24 hours (medium cups) until set.
11. Garnish with raspberries, mint, chocolate, orange peel, or whatever takes your fancy.
Nutrition Value:
Protein 24g
Carbohydrates 10g