The Lounge > Recipes >
Turkey Stir Fry
Low Carb High Protein Turkey Stir Fry
Ingredients: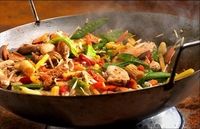 600 grams of turkey breast cut into strips.
• 1 carrot, 1 pepper and 1 courgette cut into sticks.
• Several baby sweet corn sliced length ways.
• 2 spring onions sliced finely.
• 1 clove of garlic chopped.
• 1 piece of root ginger chopped.
• 1 tablespoon of vegetable oil, soy sauce and sesame oil.
• Add quantity of noodles as required.
Method:

1. Heat vegetable oil in suitable pan and add turkey before frying for 5 minutes.
2. Add soy sauce and cook for a further minute before placing to one side.
3. Using a separate or cleaned pan, heat vegetable oil and add garlic and ginger before frying for a minute.
4. Add to this the carrot and pepper and fry for a further minute.
5. Add to this the sweetcorn and courgette and continue to fry for a further 2 minutes.
6. Finally add the turkey to these vegetables and heat through, stirring in the spring onions and sesame oil just prior serving.
7. Serve with noodles and soy sauce as required.