The Lounge > Recipes >
Turkey Roast
Protein packed Turkey Roast
Ingredients: (serves 4)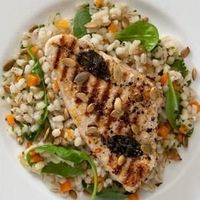 • 4 x 125g turkey escalopes
• Zest of 1 lemon
• 10 sage leaves
• Chilli flakes
• Olive oil
• Barley
• 1 small onion
• 1 carrot
• 1 stick of celery
• 4 cloves of garlic
• 50ml olive oil
• 125g pearl barley
• 750ml stock

To serve:

• 250g baby spinach leaves
• Juice of 1 lemon
• Chopped chives
• Toasted pumpkin/almond seeds

Method:
1: Marinate the turkey breast in lemon zest, chopped garlic and sage leaves, olive oil and chilli flakes and leave it until you're ready to cook. This should be at least 30 minutes.
2: Heat up the olive oil in a pan while you dice the carrot, onion and celery, then sweat the vegetables for 5 minutes until soft and translucent.
3: Add the garlic and cook for 3 minutes, then add the barley and cook for 1 minute. Pour the stock over. Bring to the boil and simmer until it has almost evaporated (about 15-20 minutes). Cover with cling film and rest for 45 minutes.
4: You've assembled your ingredients. Now heat a ridged griddle pan, then lightly brush the turkey with olive oil and season with salt. Grill for 3-4 minutes on each side, then remove it and leave it to rest for 5 minutes.
5: Warm the barley on a low heat while you toss the spinach leaves with lemon juice, some olive oil and chopped chives. Mix in the warm barley.
6: Cut scores into the top of the turkey, place next to a generous heap of the salad sprinkled with pumpkin or almond seed and tuck in!