Ingredients: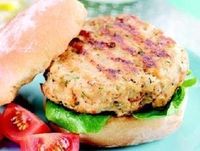 • 100 gram minced turkey
• 1/2 onion, finely diced
• 3 egg whites, lightly beaten
• small handful chopped fresh parsley
• 1 clove garlic, peeled and minced
• 1 teaspoon salt
• 1/4 teaspoon freshly ground black pepper
• Burger Roll
(if on a low carb diet, then you can leave the roll out and serve the burger next to a plate of salad and
mixed veg.
• 60 gram Lettuce
• 1 Tomato
Directions:
1.In a large bowl, mix turkey, onion, egg whites, parsley, garlic, salt and pepper. Form into a burger or two.
2. Cook in a medium frying pan over medium heat, turning once, to an internal temperature of 65 C.
3. If having as a burger, place the Turkey Burger in a roll and finish off with Lettuce and chop the tomato on the side of
the plate or add in the roll.
For more great tasting recipes by LA Muscle, follow the link: https://www.lamuscle.com/laworld/category/LAMuscleRecipes/all