The Lounge > Recipes >
Tuna and feta frittata
High in protein and low in carbs
Full ingredient list: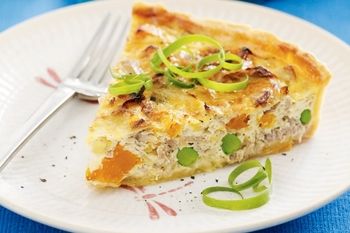 1 bunch asparagus, trimmed, thinly sliced diagonally
4 green onions, white part only, thinly sliced
1½ cups cooked basmati rice
185g tuna in spring water, drained, flaked
1 large zucchini, coarsely grated
1/2 cup low-fat feta, crumbled
1 punnet grape tomatoes, halved
3 eggs, whisked
ground black pepper, to taste
large green salad, to serve
wholegrain bread rolls, to serve
Instructions
1. Preheat oven to 180ºC, then lightly grease and line base and sides of an 18cm square tin with baking paper.
2. Blanch asparagus in boiling water until bright green and tender-crisp. Drain well.
Place asparagus, onions, rice, tuna, zucchini, of feta and half the tomatoes into a bowl. Add eggs, stir until well combined and season with pepper.
3. Spoon mixture into prepared tin and smooth the surface. Dot with remaining feta and arrange the remaining tomatoes on top, cut side up. Bake for 20 minutes, until golden.
4. Remove from oven and set aside to cool slightly before removing from tin and slicing. Serve with a large green salad and bread rolls.