The Lounge > Recipes >
Tuna Patty Melt
Healthy high protein meal
Ingredients: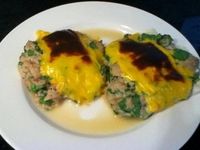 • 1 Can of Tuna (drained)
• 1 Egg White
• 1/3 Cottage Cheese
• 1/2 Small Onion (Finely Chopped)
• 1 tsp Ground Garlic
• 1/2 tsp Pepper
Method:
In a bowl mix drained tuna, egg white, cheese, onion and spices until all the ingredients stick together.
Split in half and form 2 patties.
In a medium saucepan fry patties until both sides are golden brown.
Nutrition
Calories – 215
Protein - 42g
Carbs – 4g