The Lounge > Recipes >
Thursday, 16th February 2012
Tuna Pasta Salad
A Light Tuna Pasta Salad Lunch
Ingredients: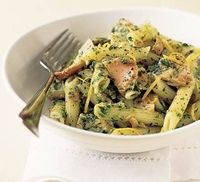 • 200g tin of good quality yellow fin tuna , such as Ortiz
• 250g penne or short pasta
• a small bunch of flat-leaf parsley , roughly chopped
• a small bunch of basil , roughly chopped
• 1 tbsp capers , drained and rinsed
• 1 garlic clove , crushed
• 1 tsp Dijon mustard
• 2 anchovies (optional)
• 1 lemon , zested and juiced
Directions:
Cook the pasta according to the packet instructions.
Meanwhile, drain the tuna (keep the oil) and flake into a bowl. Put the herbs, capers, garlic, mustard, anchovies (if using), 1/2 the lemon zest, the lemon juice and 3 tbsp tuna oil (top up with olive oil if necessary) in a food processor. Whizz to a pesto texture. Season.
Stir through the tuna then add the pasta and the rest of the lemon zest, toss together and serve.