The Lounge > Recipes >
Tuna Omlette
High protein tuna omlette
Ingredients: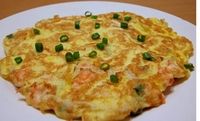 · 6 Egg Whites
· 1 Yolk
· Dash Milk (or water)
· ¼ Finely Chopped Onion
· Boiled Potato, sliced thinly
· 185g Tin of Tuna in water
· Low Fat Cottage Cheese
· 1 x freshly chopped chilli
Method:
1. In a Non-Stick fry pan cook the onion until it is brown. Tip it out and put to one side for the moment.
2. Put the Egg Whites, Yolk and dash of Milk in a bowl and mix until the yellow colour is the same right through.
3. On low heat pour the Egg mixture into the pan and leave it to cook through. If the heat is too high then you will burn the eggs, do not stir, just let it simmer. Once the Eggs are cooked almost all the way through and a thin runny layer is left on top, then sprinkle the tuna, onion, potato, cottage cheese and chilli evenly over the Omelette. Fold the omelette in half on itself.