The Lounge > Recipes >
Tropical Fruit Salad
Deliciously Fruity Salad
Ingredients: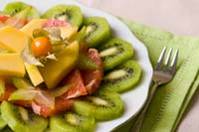 1 mango, cut into chunks
2 kiwis, peeled and sliced
1 orange, peeled and cut into chunks
1 large banana, sliced
1 papaya, cut into chunks
160ml cup coconut cream, thin with a little orange juice if it is too thick
1 banana
1 orange, sectioned
3 teaspoons natural jam (your choice)
Directions:
1. Blend dressing ingredients until smooth.
2. Gently combine all of the fruit with the dressing and place into attractive serving dishes.
3. Drizzle 1 tbsp. of the coconut cream over each salad.