Thai grilled salmon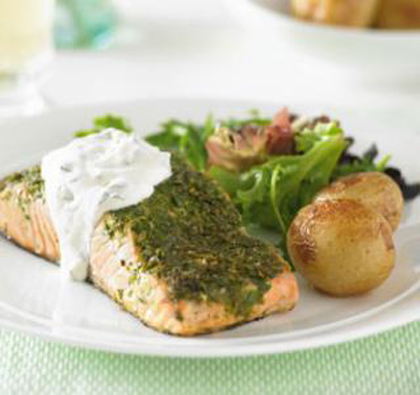 Delightful lunch-time treat.

Ingredients:
2 bunches (100g) watercress
1/4 cup fresh fresh mint leaves
2 cloves garlic, crushed
1-2 green chillies, halved, seeded
2 limes, juiced
1 tablespoon sugar
2cm piece fresh ginger, grated
1 tablespoon fish sauce 4 x 175g salmon fillets
12 baby potatoes, roasted
½ cup large green salad
Instructions
Instructions and steps:
1. Roughly chop watercress and place into a food processor with mint, garlic and chillies. Process until roughly chopped. Add lime juice, sugar, ginger and fish sauce. Process until a paste is formed. Transfer into a non-metallic baking dish.
2. Place salmon fillets into dish and coat both sides evenly with paste. Cover. Leave to marinate in refrigerator for 30 minutes to 3 hours.
3. To make dressing: combine yoghurt, garlic and mint leaves. Season with black pepper. Cover. Refrigerate until needed.
4. Heat a non-stick frying pan on medium heat. Cook salmon, making sure paste still coats each piece, for 4-5 minutes on each side or until cooked to your liking. Top with a spoonful of yogurt dressing and serve with potatoes and green salad.