The Lounge > Recipes >
High protein tasty chicken wraps
Tasty chicken wraps
Ingredients: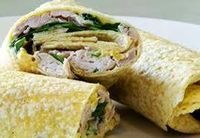 • 2-4 soft tortillas
• 4 tbsp cottage cheese
• 4 tbsp low-fat natural yoghurt
• 120g skinless, boneless roast chicken breasts chopped
• 100g sweetcorn
• ¼ cucumber
• 1 pinch ground black pepper
• 2 handfuls lettuce leaves
Directions:
1. Lay out the wraps or tortillas on a clean work surface.
2. Put the cottage cheese and yoghurt in a bowl and mix together until smooth.
3. Add the chicken, sweetcorn and cucumber. Season with some pepper, then mix well. Spread an equal amount over each wrap, then top with the lettuce.
4. Roll up each wrap tightly, slice in half, then wrap in cling film. Keep cool until ready to serve.
Tip 1: If you're not keen on cucumber or sweetcorn, use grated carrot or some of your favourite veg instead.