The Lounge > Recipes >
Spaghetti and Meatballs
Delicious home made Spaghetti Meatballs
Ingredients: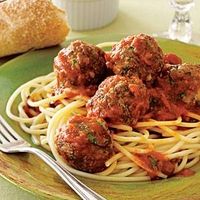 • 1 lb. ground turkey
• 1 slice whole wheat bread, ground into crumbs
• 1 egg white
• 113g non fat ricotta cheese
• 30g. grated Parmesan
• 15g. fresh parsley, chopped
• 10g. dried oregano
• 1 crushed red pepper
• 4g black pepper
• 5ml. extra virgin olive oil
• 1 small onion, chopped
• 1 clove garlic, minced
• 5g dried oregano
• 3 whole tomatoes
• 2 tsp. balsamic vinegar
• 113g fresh basil, torn.
• 12 oz. whole grain spaghetti, cooked
Directions:
1. In a large bowl, combine the first nine ingredients. Shape into 16 meatballs. In a large skillet, heat oil over medium - high heat. Cook meatballs until golden brown. Place in refrigerator until ready to use.
2. Reduce heat to medium. Add onion and cook until soft. Add garlic and oregano and cook for 1 minute. Stir in tomatoes and bring to a boil. Cover and reduce heat to medium low and simmer for 1 hour.
3. Uncover sauce and break up tomatoes with a wooden spoon. Stir in balsamic vinegar. Add meatballs to the sauce, and basil. Cook uncovered for 10 - 15 minutes. Serve with pasta.
Makes 4 servings.
Nutrition Value :
Calories: 395
Carbs: 50 g
Protein: 37 g