The Lounge > Recipes >
Salmon Stir Fry
Deliciously Salmon Stir Fry
Ingredients: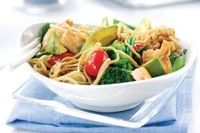 - Juice of 1 orange
- 1 tbsp runny honey
- 2 tbsp soy sauce
- 1 tbsp olive oil
- 2 salmon fillets, skinned and sliced
- 150g (6oz) broccoli
- 100g (4oz) green beans, top and tailed
- 2 avocados, peeled, stoned and sliced
- 6 cherry plum tomatoes, halved
- 150g (6oz) baby spinach
- 50g (2oz) walnut halves
Method:
1. Mix together the orange juice, honey and soy sauce.
2. Heat the oil in a large wok. Add the broccoli and stir fry for 2 minutes, add the salmon and beans and stir-fry for a further 2 mins.
3. Add the remaining ingredients, and continue to cook, keeping all the ingredients moving, for a further 2 mins. The vegetables should still retain some crunch.
4. Add the orange dressing and heat for 1 further minute. Serve immediately with freshly cooked noodles.