The Lounge > Recipes >
Salmon Delight
Protein Packed Salmon Delight
Ingredients: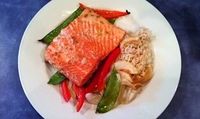 • 200 grams Salmon Filet
• 1 julienned Red Pepper
• 1/2 cup sliced Snow Peas
• 1/2 sliced Onion
• 2 tbsp Olive Oil
• 2 tbsp Rice Vinegar
• 2 tbsp Low Sodium Soy Sauce
• 1 tsp minced Garlic
• 3 cups Brown Rice, cooked
Method:
• In a bowl, whisk together olive oil, rice vinegar, low sodium soy sauce and minced garlic.
• Place salmon and sliced vegetables in an oven-safe dish and drizzle with sauce.
• Place in the fridge for about an hour to allow the sauce to marinate the salmon.
• Bake salmon at 350 degrees F for about 30 minutes, or until the salmon flakes easily with a fork.
• While baking, prepare brown rice according to package directions.