The Lounge > Recipes >
Salmon, Lemon & Asparagus Pasta
Quick and easy to prepare
Ingredients: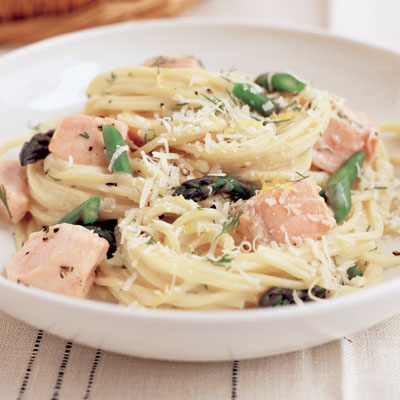 300g (11oz) Tagliatelle
100/125g pack Asparagus tips, halved
25g (1oz) Butter
150g (5oz) Frozen peas
250ml pot Crème fraîche
4 tbsp Milk
1 Lemon, grated zest only
Salt and freshly ground black pepper
185g packet ready-cooked lemon and herb salmon , flaked
METHOD:
1 Bring a saucepan of lightly salted water to the boil, add the tagliatelle and cook for about 10–12 minutes, or according to packet's instructions, until just tender. Add the asparagus tips during the last 4 minutes and then drain well.
2 Meanwhile, melt the butter in a saucepan and add the peas, then stir in the crème fraîche, milk and lemon zest (reserving a little for garnish). Heat gently, stirring, for about 3 minutes, then season to taste.
3 Drain the pasta, then return it to the saucepan and add the sauce, stirring gently to mix. Divide between 4 warmed bowls. Scatter with the salmon flakes and lemon zest and serve at once.