The Lounge > Recipes >
Raspberry Oat bars
Tasty Raspberry Snack Oat bars
Ingredients: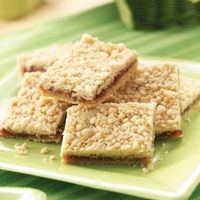 • 200g oats
• 230g all purpose flour
• 5ml cinnamon
• 170g unsalted butter, softened
• 2.5g salt
• 5ml vanilla extract
• 54g Truvia
• 545g low sugar raspberry preserves
Directions:
1. Assemble all ingredients; preheat oven to 160°C.
2. Place oats, flour, cinnamon, butter, salt, vanilla and Truvia in mixing bowl, mix at low speed for 1 minute.
3. Scrape sides of bowl and paddles.
4. Mix on medium speed for 2 minutes.
5. Portion 2/3 of oat mixture into greased 13" x 9" baking pan; set aside remaining 1/3 mixture for topping.
6. Press oatmeal into bottom of pan to form crust.
7. Spread preserves over pressed oatmeal crust; dust with remaining oatmeal mixture for topping.
8. Bake at 260° C for 35-40 minutes until golden brown.
9. Serve warm or at room temperature.