The Lounge > Recipes >
Protein packed Breakfast
Low Fat Protein Packed Breakfast
Ingredients: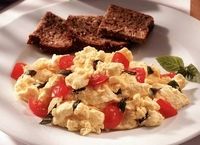 • 5ml low fat margarine
• 6 Egg Whites
• 226g chopped tomatoes
• 50g cup Shredded Mozzarella Cheese
• 5g tablespoon finely chopped fresh basil
• 1ml teaspoon garlic salt with parsley
• 3 Slices of wholemeal bread optional - Not included in the nutrition value.
Directions:
1. Melt butter in 10-inch non-stick skillet over medium heat.
2. Add Eggs. Cook 3 to 4 minutes, stirring occasionally, until Eggs are set but still moist.
3. Top with tomatoes, cheese, basil and garlic salt. Stir gently to mix.
4. Cook until heated through.
Protein 24 (g)
Calories: 133
Carbohydrate 3 (g)
Dietary Fibre 1 (g)
Sugar 2 (g)