***LA Muscle Recipe of The Day - Prawn salad with mango and chilli***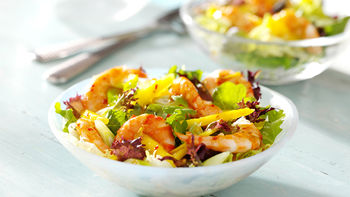 300g sugar snap peas, trimmed
32 large cooked king prawns, peeled, deveined, tails intact
2 large ripe mangoes, cheeks removed, thinly sliced
1 large cucumber, halved lengthways, thinly sliced diagonally
100g baby salad leaves
Dressing 2 tablespoons mirin (Japanese rice wine)
2 tablespoons lime juice
1 tablespoon olive oil
1 long red chilli, seeded, finely chopped
1 teaspoon finely grated ginger
1 teaspoon brown sugar
Directions:
1. Blanch sugar snap peas in a saucepan of boiling water until bright green and slightly tender. Drain. Rinse under cold running water.
2. Place peas, prawns, mango, cucumber and salad leaves in a large bowl. Gently toss to combine.
3. Make dressing: put mirin, lime juice, olive oil, chilli, ginger and sugar in a small bowl, whisk until well combined. Divide salad between plates and drizzle each with dressing.